Bold Eagles
Kevin Cadle says the Eagles will edge past Seattle - because they aren't at home.
Last Updated: 30/11/11 5:50pm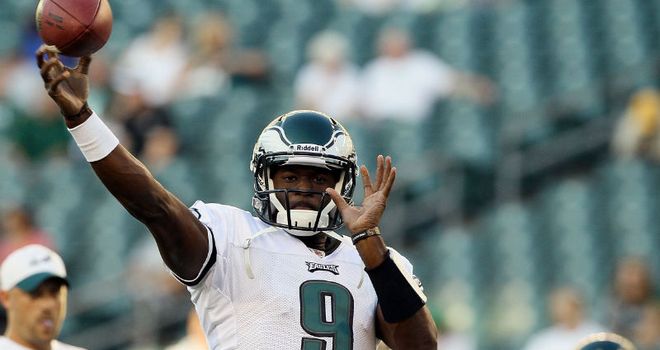 Philadelphia will be pleased to get out of Philadelphia and what's interesting this year is that Seattle really haven't taken advantage of being at home like they have done in the past.
That was the edge they had on some teams coming in. So for me it's one of those games where I fancy the Eagles because Seattle has lost their confidence at home.
Having said that, both have a record of 4-7 this year and are pretty evenly matched.
People are saying there is pressure on Andy Reid, but when you put a team together like that, I think the owner understands when you bring that many new faces in it doesn't matter how much money you spend, it's about chemistry.
That's what people keep forgetting. It's like Chelsea, you think just because you buy this guy and this guy that you're going to win all the time.
But chemistry wins hands down every time and that's the problem with Philadelphia right now - but I think the owner understands that.
There is some YouTube clip doing the rounds of a three-year-old firing Andy Reid on the spot - I wonder what his mummy and daddy will get him for Christmas?!
There's no way the Eagles can make the play-offs, that's definitely not going to happen. It's been a case of playing for pride for some time - but where is the pride? The players haven't all been on the same boat at the same time.
Vince Young has shown he can do as capable a job at quarterback as Michael Vick, but you get a game like their last where you get to the two-yard line and you don't score, DeSean Jackson drops a couple of touchdown passes...
New England just blew them out even though Philadelphia had their opportunities, but that's what I've been saying all year.
Vince Young made the passes - it's just the rest of them - what the hell are they doing?
He'll be fine against this defense - the Seattle defense is nothing to write home about. I think he'll be able to get going all right. He's shown in the past that he can be successful and that he can win ball games. If he has the chance then he can get the victory for Philly.
It's probably the best thing for them that they can get out there on Thursday after losing like that at the weekend, so they don't have to go through the drudgery of practice and thinking about the reaction. Now it's all about looking ahead, not back.
In fact it's probably good for both teams that Thursday has come round. Seattle let one get away against the Washington Redskins.
The Seahawks lost 23-17 after a fourth-quarter collapse and while they are not mathematically eliminated from anything yet, it was another missed chance.
Kev's Call
I'm going Philadelphia, it won't be easy because they never do it easy, they know nothing about easy wins! I think it'll be a competitive ball game, in fact I think it will be a pretty good ball game, but I reckon the Eagles will come out on top.
The Cadle Guy
LeSean McCoy (Philadelphia) - In this one McCoy could have a major role. He's a big one. The whole thing's going to come down to McCoy versus Seattle's Marshawn Lynch. Lynch has been playing very well of late and if there is an outstanding player between these two - they'll be the ones who get you the game.