Feast on football
Kevin Cadle calls the three Thanksgiving Day games coming your way on Sky Sports...
Last Updated: 24/11/11 11:19am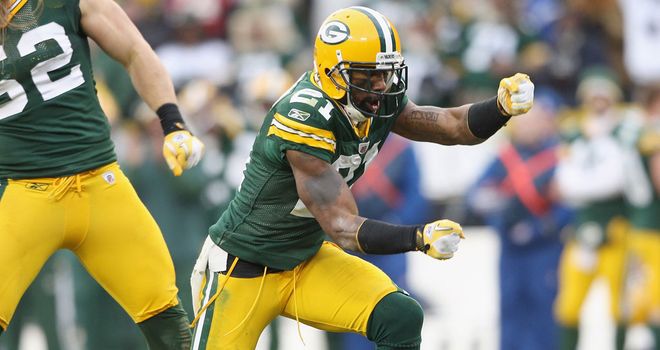 Thanksgiving means two things... food and football!
And Sky Sports is bringing you an NFL feast on Thursday night with a tasty triple-header... in HD.
Kevin Cadle will be there to guide you through the games as usual and here's how he sees them going...
Green Bay @ Detroit (5.30pm, Sky Sports HD3)
We've seen plenty of the Pack this year and offensively, the familiar lack of a running game aside, there is plenty to admire.
But defensively, the way they are getting hurt by the pass has to be a worry. And it has to be a worry when they are going up against Detroit, Matthew Stafford and Calvin Johnson.
That Green Bay backfield is just not making the plays it did last year. I know they had a few injuries at the start of the season and those guys are starting to come back but the only really consistent performer has been Charles Woodson.
You would expect him to be given Megatron to play with on Thanksgiving, but will that be enough?
Stafford's form is what makes this such a great match-up. Five touchdowns last week says it all. But maybe they can throw in Kevin Smith and some sort of running game here for the first time since Jahvid Best got injured.
Smith ran for 140 yards and two scores last week and although that was only against Carolina, who anyone can run on, it still gives them another option.
Detroit are fun to watch but they are young and they are dumb. Their defensive line is pretty good but much like Green Bay, go through the air and they struggle.
And what worries me is that they might be 7-3, but in three of those games they have come back from 17 points down.
It might give Stafford a reputation and it might look good, but believe me you cannot keep going back to the well. If they are 17 points down against the Packers they will not come back from that!
A feast for?
I have to go with Green Bay! They are the form side, they should be looking at an immaculate season and although they are by no means perfect, the know how to win big games. Detroit will be entertaining, but the Packers have that and efficiency in their locker.
Give thanks to...
Aaron Rodgers (Green Bay) - No quarterback has done what Rodgers is doing so far. They have put up the same amount of touchdowns, but his completion percentage and overall quarterback rating show you that he is the complete package. But no-one has put it together for an entire season and about now is when the weather starts to change and life gets that little bit harder.
Miami @ Dallas (9.00pm, Sky Sports HD3)
Congratulations Miami! You have finally worked out what to do with Reggie Bush!
Sometimes in the NFL you bring a guy in and don't know what to do with him and for seven weeks that was Reggie in Florida. But now he has woken up, stepped out of the shadows and more importantly his employers have realised how to use him.
Quarterback Matt Moore has been impressive, but not impressive enough to be anything other than a back-up. He is not a franchise quarterback, so the Dolphins will still have to search for one in the off-season.
They will also be looking for a new head coach because three wins in a row is not enough to save Tony Sparano's job. In fact, they could win every game until the end of the season and he will still be seeking new employment come January.
But the Dolphins players do deserve some credit for finding some heart and a whole lot of courage - maybe they just realised that their jobs are on the line as well. Defensive co-ordinator Mike Nolan has done a good job because in those three wins, they have not conceded a touchdown.
They are though, up against a Dallas side on a three-game streak themselves. And after so many problems last year, they are finally winning their home games, and that Miami defense will find Tony Romo on top of his game, too.
It's not so much what Romo has done lately, it is more a case of what he hasn't done - turn the ball over. Eight touchdowns and no interceptions speaks for itself and he is sticking to what he knows, which means tight end Jason Witten is seeing plenty of the football.
Don't forget that Dallas have lost Miles Austin and Des Bryant is still a little flaky, but they have unearthed a new receiving star in Laurent Robinson. The Dolphins defense might be in a mean mood, but they will do well to stop Romo and his receivers racking up another win in Jerry's Place.
A feast for?
I gotta go with the Star Power and Dallas. Their defense, with DeMarcus Ware still leading from the front, will come after Matt Moore and I am not sure he or his offensive line will cope with that. The Cowboys might have had a quiet season by their soap-opera standards, but expect them to make some noise for Thanksgiving.
Give thanks to...
DeMarco Murray (Dallas) - With 747 yards already, Murray is proving as vital as Romo and Witten to that Dallas offense. If he and Felix Jones can do their thing it might just open up the Dolphins and allow the passing game to flourish.
San Francisco @ Baltimore (1.00am, Sky Sports HD3)
Thanksgiving is a time to celebrate with friends and family... unless you're in the Harbaugh household.
Brothers Jim and John go head-to-head with their two sides and although they have both played the diplomacy card so far, this is going to be a real snot knocker once it gets underway.
Not only are two brothers facing each other, two of the meanest defenses in the NFL are putting it on the line. San Francisco lead the league in yards allowed while Baltimore are third.
And while Jim has done a great job turning the Niners round, it is also time to pay some respect to former head coach Mike Singletary.
There is no doubt what we are seeing this season is the knock-on from the toughness and discipline Mike instilled last year. He might not have handled some of his players well but his input on the defensive side of the football cannot be ignored.
But Harbaugh has transformed quarterback Alex Smith. He has made him the main man, taken the pressure off and taught him that if he doesn't make a play every time it's not a disaster. That confidence means he has thrown just four interceptions all season, which puts him up there with Aaron Rodgers.
He will need his wits about him this week though because the Ravens defense is still the same old mean machine it has been for years. Baltimore does hard hits and tough tackles and they can bring in all the rules they like, but nothing is going to stop these guys making their mark when they can.
It will be interesting to see what shape Ray Lewis is in this week. He was prowling the sidelines and looked ready to play against Cincinnati, so Frank Gore and that Niners offensive line better expect Ray to come at them from all angles! Lewis, Ed Reed and those other grizzled veterans must make John Harbaugh's job a hell of a lot easier, because they pretty much do what they do, week in, week out.
You might look at what Cincinnati did through the air last week and look for Michael Crabtree and Vernon Davis to have an impact, but I am not convinced that San Francisco offense can cope with the heat that will be put on them up front.
A feast for?
Brotherly bragging rights are up for grabs and big brother always whoops little brother, so I am going with John and the Ravens. The Niners beat up on Arizona last week, but what Baltimore did to the Ravens suggests to me that they will be up for this. And when the Ravens are up for it, they can be frightening!
Give thanks to...
Ray Lewis (Baltimore) - Ray will set the tone for how the Ravens go. You could see last week how he gets everyone fired up even when he's not playing. He will have hated sitting it out, so expect him to be at full tilt and pretty short on Thanksgiving spirit, for 60 minutes at least.