Northern rocks
KC expects Baltimore's wily old heads to steal a march on Cincinnati - and take control of the NFC North.
Last Updated: 18/11/11 10:39am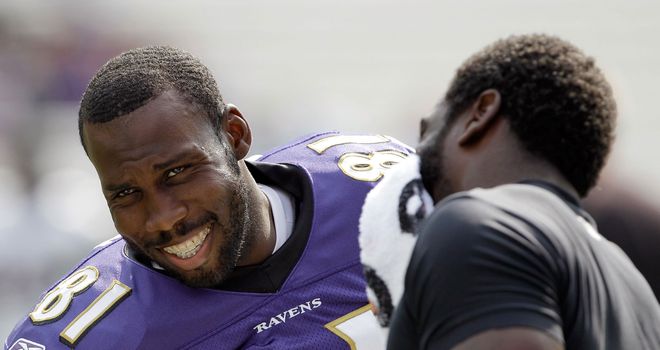 The AFC North has always been a rough, tough division to be in, but usually it is a straight-up scrap between Pittsburgh and Baltimore.
Well, this season, you can throw Cincinnati right into that mix as well. Their 6-3 start has made it a three-way fight and makes this a big, big game for everyone.
If the Ravens win, with the Steelers on a bye week, they join them at 7-3 and because they got the nod over them a couple of weeks ago, they will hold sway in the division.
If the Bengals win they go to 7-3 as well, but they lost to Pittsburgh so won't hit the front. But they will have the advantage over Baltimore.
I think we can say that the Bungles tag is gone in Cincinnati this year. Their rookie quarterback Andy Dalton has given that offense a fresh impetus and they have produced some good wins so far.
But they are still a little flaky for my liking. I don't think that comes into the equation here because they seem to have no problem getting up for these AFC North games, but they tend to fall back when they go outside their division.
They did pretty well against Pittsburgh last week and might well have gone something but for two crucial interceptions. Dalton was trying to win the game and it backfired, but that happens with rookies. You have to take the rough with the smooth with the newbies because they will have blips.
What Cincinnati needs to do this week is help Dalton out more. And that means Cedric Benson coming to the party. Cedric is an experienced head and a solid back and he will know this the time for him to step up.
You know that mean old defense will be looking at the rookie quarterback. Terrell Suggs and Paul Kruger have 11 sacks between them and those wily old veterans Ed Reed and Ray Lewis will be going all out to make sure Dalton has an uncomfortable night.
It will be up to the Bengals line to give him some protection, but it also needs Benson to come good. If nothing else, some early yards will bring the play-action into it and at least mean that Ravens unit cannot go on the front foot every single play.
If Cedric can give them something to think about, then Dalton gets time and can look at linking up with AJ Green, which he has done pretty well so far.
But it is all about keeping hold of the football. And the very same principle applies to Baltimore and Joe Flacco.
Last week, they turned it over too many times and the stats show that in his last four games Joe is 3-3 on TDs and interceptions tells you something is not quite right with that Ravens offense. Or more to the point Flacco. It has just been straight-up poor throwing that has brought this about, nothing else.
If he can cut out those errors, the Ravens still have one of the smartest offenses around. You might look down the line-up and see Ray Rice and Anquan Boldin and think it is a question of the same old faces, but what it tells me is that the cream always rises to the top.
Rice has over 1,000 yards from the line of scrimmage and Boldin is stil Flacco's major out. Tight end Ed Dickson has made a decent contribution and might well have a big game on Sunday because the last thing the Ravens want right now is their quarterback tossing it to all corners.
Kev's Call
We have got two tight match-ups for you on Sunday night and this is probably the tightest. There is a divisional rivalry at stake and not only that, this game will go a long way to deciding who gets out of the AFC North and into the play-offs. It is in Baltimore where you wouldn't normally back against the home team and although Cincy have done wonders this season, I am still not convinced. I am going for the old heads to take the Ravens to 7-3.
The Cadle Guy
Cedric Benson (Cincinnati) - Rookies need help. Quarterbacks need help. Rookie quarterbacks need a little extra help and right now Andy Dalton is in that bracket, so it's up to his running back to come to the rescue. Benson knows how to get the job done and he is not afraid of hard yards and hard graft - and that's what his team need from him. Even if he doesn't put up big numbers he needs to show intent early on, get that play-action fake working and give Dalton options and time. If he can't get into the game, then Cincy have no chance.