Running on empty
Chris Johnson may be in the groove but it won't be enough to help the Titans topple the Falcons, says KC.
Last Updated: 18/11/11 10:39am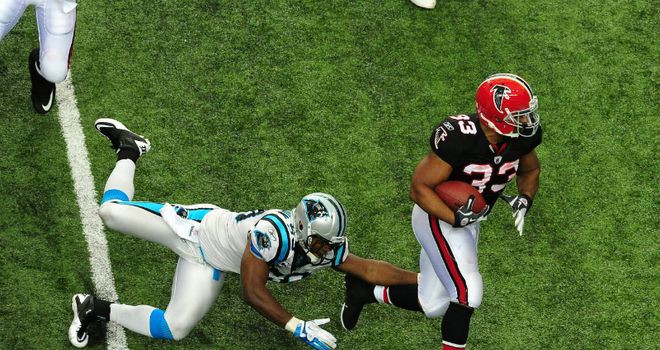 Finally Chris Johnson has found his form for the Tennessee Titans.
Last week's 130-yard game against Carolina was his best of the season so far. But can he do it again against Atlanta? That is the big question heading into this.
A quiet season by his standards does not mean Johnson has become a bad running back. It's not a question of people finding him out either, more a question of him sitting on the bench for so long this year. It's hard to put up yards when you're sat down!
Also, it might be a case of that Titans offensive line doing a bit more to help his cause. They have done a pretty good job of keeping Matt Hasselback upright this year, but protecting your quarterback upright and blocking for your back are two different things.
There has been a shift in mentality on that offense but they are putting up decent points on a regular basis, so I don't think it's in need of huge changes, just a few tweaks to make sure that running game is given the best chance.
I am expecting Johnson to get that help on Sunday night because the Altanta Falcons can be run on. Nate Washington is a threat at wide receiver and he and Hasselback have struck up some good chemistry, so that will spread the defense and should mean there is another big game up Johnson's sleeve.
What Atlanta will bring to the party is pretty much the same as always. Those same offensive weapons, like Michael Turner, like Roddie White and like Tony Gonzalez, are still what's getting it done for them.
Much was expected of wide receiver Julio Jones but a couple of good games aside, he hasn't really come through to help those old heads get the job done.
What they don't need is another ridiculous call from head coach Mike Smith. His decision to go for it on a fourth and inches against the New Orleans Saints was bad, just bad. I see Mike has held his hands up but what else was he going to do other than admit it was his bad?
It might be a decision that has a big impact as well, because it helped the Saints go two games clear in the NFC South. It is not over for the Falcons but they know they need to win here and hope New Orleans slip up a couple of times.
The Tennessee defensive line is somewhere they can capitalise and I am expecting Turner to come into this game as much as the Titans will be looking for Johnson. It might come down to the best guy on the night deciding this one.
Kev's Call
This is a close one. I've not flipped the coin too many times this season, but it's out now! Johnson and Turner will hold the key but it depends on what help they get from each offense and it depends on what defensive line has made the changes to cope best with the run. But looking down Atlanta's roster, they still have experience and talent throughout the side and they are at home. That swings it for me.
The Cadle Guy
Chris Johnson (Tennessee) - The guy just hasn't had enough game time, simple as that. He put up 2,000-plus yards in 2009, 1,000-plus last year and after nine games this year he has had just 148 carries in nine games. They gave him the ball last week and they scorched Carolina 30-3, so they need to do it again here. If they get Johnson in the game and block well for him, the Titans have a chance.