Grounding the Jets
Tim Tebow does what he wants on Denver's offense. Will that include running over New York, wonders KC.
Last Updated: 16/11/11 7:17pm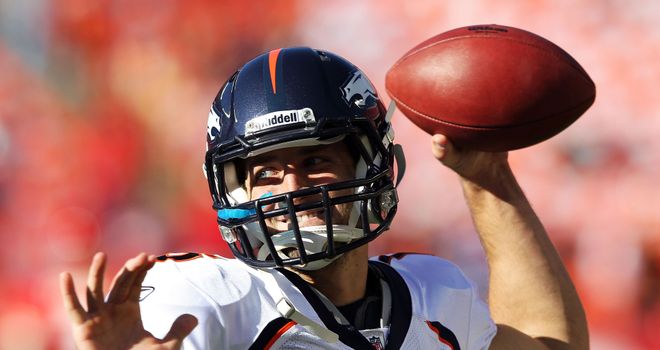 Tune in to Sky Sports in the early hours of Friday morning and you will see something a little bit different from the Denver Broncos offense.
You will see something that is different to the regulation NFL playbook. You will see something that isn't really college football, either. In fact when the Broncos get the ball, you will see something straight out of junior high!
That's because when they put the ball in Tim Tebow's hands, anything can happen. As long as Tim is feeling it, it will happen. He is just as likely to run with the ball, pitch it to Willis McGahee or another of his running backs.
In a nutshell they let Tebow read the defense and that whole offense adjusts to whatever he sees and does. It is unconventional as we saw last week when he attempted just eight passes against Kansas City, but it is effective. And as I have said several times on these pages and as we have seen on the field, Tebow wins football games.
Whether or not it will see the Broncos through the play-offs remains to be seen, but you have to admire John Fox and his team or sticking to the theory.
I am not sure admiration will be what Rex Ryan is feeling for that offense and I am sure he thinks his defense can bring Tebow down. Rex thinks that every team he faces and at times, rightly so, but I am not sure that is the case here.
The Jets defense is built on the strength of their cornerbacks Darelle Revis and Antonio Cromartie and heading into Thursday night that presents to dilemmas for the Jets. The first is Revis has been struggling with injury this week and the second? Well, if a quarterback throws the ball eight times in four quarters, I don't care how good your secondary is, they ain't gonna affect the game.
I am sure that Bart Scott and Jamaal Westerman on the left side of that front seven will be looking at getting to Tebow and if they can't sack him, at least hurry him. If they can do that, then you would fancy Revis and co to take care of a receiving corps led by Eric Decker, who has just 462 yards to his name this season.
Inconsistent
But that's a big if. Remember the Jets defense has been torched twice this season. Once by the Patriots and once by the Raiders. Tebow has a great mentality but he is no Tom Brady, but what would worry me if I were Rex, would be what Darren McFadden did to them on the ground. If McGahee and his quarterback can are presented with gaps, they will get through them.
On top of all that, I am still waiting to see what the Jets are all about this season. They have had injuries on both defense and offense and have been inconsistent as well. Mark Sanchez was slated by Rex last week for calling that time out against the Patriots last week, but let's be honest, it hardly cost them the game. When you are blaming your quarterback for handing you a 21-point defeat instead of a 14-point defeat, you know something ain't right!
Plaxico Burress has got six TDs to his name but from what I have seen, he must have caught every pass this season in the end zone, because he hasn't really set the Jets offense alight. Dustin Keller, the tight end, remains their most productive and reliable receiver, again a worrying statistic for a side that harbors hopes of the play-offs.
They could do with a running game that works properly, but this week there is no LaDainian Tomlinson and as we have seen, Shonn Greene cannot do it on his own. Last season everything fell into place for the Jets but this season, it has fallen apart at crucial times. If it happens again on Thursday night, they will lose some serious groumd in the AFC East.
Kev's Call
This is a tough one. I like what Tim Tebow does but if that comes up short and the Jets step up on him, is his arm good enough to take on that secondary? I am not so sure. But he does find a way to win and you cannot coach that - and you cannot say the same about Mark Sanchez. We are all waiting for the Jets to click though and they know time is running out, so are those big-game players all gonna hit form at the same time? It's at Mile High though and for that reason and that reason alone, I am going with the Broncos.
The Cadle Guy
Tim Tebow (Denver) - Who else can it be? You will see something different from this rookie and it should be fun one way or another. If Denver are going to move to 5-5 - and don't forget they are still in with a great shout of the AFC West - he needs to find a way to win. It would be nice if he could get some help from McGahee because the Jets can be run on.