Manning up
Kevin Cadle says in Eli Manning, the Giants have the quarterback to take them past the red-hot 49ers.
Last Updated: 13/11/11 2:11pm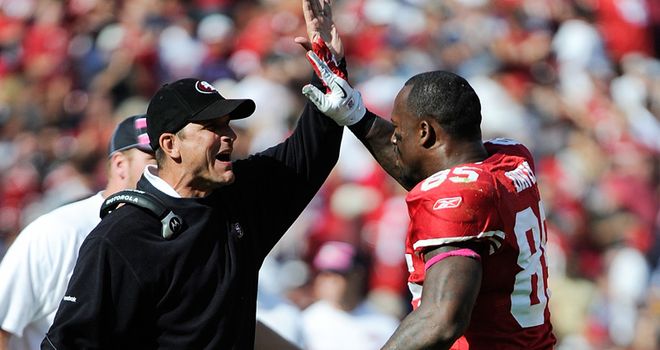 There have not been too many stand-outs teams in the NFL this season, but San Francisco has to be one of them.
They never really responded to head coach Mike Singletary last year, but since Jim Harbaugh took over, they have been an impressive unit - especially on defense.
They are conceding the fewest points in the NFL which is a great starting point and if there is one team Eli Manning and his patched up offense are really going to have to play well to score on, it is the Niners.
On the other side of the football, thanks to Frank Gore, they are leading the league in rushing yards and although I am not totally convinced by Alex Smith at quarterback, you have to say they haver everything going for them right now.
Singletary was a great player and a great guy, but great players don't always make great coaches. The problem they have is they expect their players to reach the same standards they did - and for someone as good as Mike was, that was never going to happen.
Old-school
Harbaugh was a decent player, but not great. As a coach he has come in, sussed out the players who want to play for him and above all else, he has been fair. Everybody has started over with a clean slate and he had no pre-conceived ideas about who can do what and who can't. It's the old-school way, but it still works well today.
He has also backed Smith, which is a major boost for a young quarterback with question marks against him. He has reminded him he doesn't need to make a play every time he gets the ball in his hand; he has taught him it is OK to throw the ball away if he has to. And Smith does not have to go out and win games on his own.
He has Frank Gore having another productive season and he has a defense that is nice, tight safety blanket. He also has a nice, experienced receiving corps helping him out. Michael Crabtree and tight end Vernon Davis in particular, are safe, experienced hands, he knows he can hit when the pressure is on.
But that offense is all about Frank. He is being helped by an offensive line maturing nicely but once he gets past that line of scrimmage he has speed to out-run most safeties and the power to run over most defensive backs. The Niners have had some pretty good running backs over the years, but Gore's five consecutive 100-yard games are a franchise record, which says it all.
The Giants are way down the rankings against the run, but their defensive problems this year have been down to one thing: injuries.
Incredible
It has been an incredible run for them; as soon as one guy comes back, another goes down and you really do have to take your hat off to the way Tom Coughlin the way he has handled that situation up in New York.
He could easily have made a lot of it and had an excuse ready every week, but he has not let it become a problem and just tried to fix it. And to be fair to his players, the next man has just come along, when called upon, and got the job done.
That is one of the key elements to them being 6-2 and out in front in the NFC East; the other is Eli Manning.
Coughlin has always maintained he is a top-five quarterback in the NFL and Eli is starting to prove his coach right. He has lost his main running back in Ahmad Bradshaw, his receivers have been in and out, yet the guy still has four fourth-quarter comebacks to his name so far.
Last season he threw 25 interceptions, this season it's only six. If they can get Hakeem Nicks fit for Sunday then it should be another good day for Eli because as good as they are against the run, San Francisco's Achilles heel is their pass defense. He should get enough time to pick a pass and keep proving his coach right.
This is a big, big ball game for both teams. San Francisco can wrap up their division and the Giants know that if they win this, they are likely to be the second ranked team in the NFC behind Green Bay. And that will make those injuries heal a whole lot faster.
Kev's Call
It's a different set-up in San Francisco this season, far more positive, plenty of support and a side responding to their coach. But I have been impressed with the focus the Giants have been playing with lately and I think that might give them the edge here. They still have the experienced players and they still have big-game players and they are used to dealing with diversity pretty much every week. I'll go for another Giants win.
The Cadle Guy
Eli Manning (New York) - Peyton has had a season to forget, but little brother has been coming up with some big, big performances to keep the Manning family flag flying high. He has had his major offensive weapons struck down by injury all season long, but has emerged as a guy who never gives a game up and a guy who can drag his side through tough times. It has been a big season in Eli's maturing process and it looks like it is going to continue on Sunday - and into the play-offs.