Veterans' day
Kevin Cadle expects the experienced Steelers to bring Cincinnati's stunning start to a halt on Sunday.
Last Updated: 13/11/11 2:15pm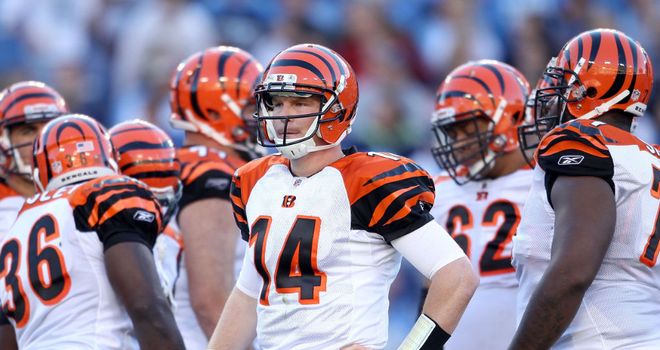 If the season ended right now, the Cincinnati Bengals would be the No 1 team in the AFC.
That's a pretty incredible statistic when you look at where they came from last season and considering you're talking about a team with a rookie quarterback and another rookie as their lead receiver.
Let's be honest here, the teams they have faced this season are 16-33 and are certainly nowhere near the Pittsburgh Steelers. This will be the first proper test for those Bengals youngsters and we will know, one way or the other, what they are all about come Sunday night.
But you have to give Cincinnati great credit for what they have done so far. The rookie quarterback, Andy Dalton, has been a major success. He is not gonna beat Cam Newton for rookie of the year, but he will be a close second - unless Cam falls flat on his face - and he will be the best in the AFC.
He is a young guy that knows what he can do and doesn't try and do anything he can't. He has great composure, excellent leadership skills and is calm enough to stay in the pocket and wait for his receivers to get open. Maybe the fact that he doesn't have Cam's ability to take off and make things happen is why he dropped into the second round of the draft, but I bet a lot of NFL coaches are wishing they had taken the plunge now.
His main man this year has been another in his first year, AJ Green. He is a real speedy wide-out with great hands and great athleticism. And as my man Neil Reynolds was saying the other day, he just wants to play football. A lot of guys love the money but don't love the game; AJ is a competitive guy who just gets up and gets on with things.
Influence
Dalton and Green do have the good fortune that they are also have Cedric Benson in that offense. Benson is one of those running backs you know will get you 1,200 yards a season whatever happens. He also has that experience they need on offense, although he is hardly a calming influence off the field. In fact, if he can cut out the crazy stuff and not get himself regularly benched, who knows what he might achieve?
But Benson remains a positive influence. It is the guys that had gone stale that Marv Lewis needed to get rid of - and he has. Chad Ochicinco, TO, Roy Williams and of course, Carson Palmer had all been there too long and in some respects, had become a problem.
There have been similar changes on defense, which is where most of their success has - and will - come from. They are a young, fresh bunch who are coming up with the goods, week in, week out.
They bought in Nate Clements from San Francisco and he and Leon Hart make a tidy little cornerback pairing and the fact that they are fourth in the league conceding around 300 yards a game, are second best against the rush and fourth in points conceded, tells you where they're at.
What that means is Dalton knows two, maybe three touchdowns are usually enough to win a game and for a rookie quarterback, there can be no better feeling.
It is working right across the board for that unit right now. But like I said at the start, it had better work on Sunday because they are up against a team of veterans who know how to win games and will do what it takes to win games. Ok, the Steelers lost to Baltimore thanks to an incredible 92-yard drive last week, but they will still want to prove they are the dominant force in the AFC North.
Healthy
And they probably would be had it not been for the terrible injuries they have had to deal with this season. Hines Ward has missed a large chunk which has left them short on offense - although he is back in full practice and will give those Bengals cornerbacks plenty to ponder if he makes this.
More importantly, that legendary linebacking crew has also suffered. James Farrior has a serious calf problem, Lamarr Woodley a hamstring and James Harrison has also had to miss games.
Those are veteran campaigners we are talking about, so maybe it does take them a little longer to get healthy, but if they had all been fit all season, I am not sure it would be so tight at the top of the AFC North. And even if they are not up to strength, these guys know how to get at offenses, especially ones with young quarterbacks. Yes, they are a year older, but that means a year wiser.
There really isn't much change all round for the Steelers this season, except maybe that Ben Roethlisberger is throwing a lot more. He is second in the league in passes attempted. I would love to sit here and tell you that's because that offensive line is finally giving him the protection he needs, but I am not sure that is the case. It's getting better, but Ben knows his MO: take a licking, but keep on ticking.
It might have more to do with the fact that the running game and Rashard Mendenhall has been subdued this year, too. Steeler football has always been about pounding them on the ground but so far that hasn't really happened for them.
Rashard might not have much luck against that run defense this week either, but if the Bengals are going to take that title, they had better be ready for the real Pittsburgh Steelers in every other department
Kev's Call
Last week's loss to Baltimore was an aberration for Pittsburgh, which means bad news for Cincinnati. The Steelers will be hurting and that means they will want to go out and hurt! They are still probably the most physical side in the NFL and with Troy Polamalu still playing the only way he knows how, that Bengals offense is going to come up against something they have not faced this year. And as impressive as their own defense has been, Pittsburgh are right behind them in the stats. It will be interesting to see how the Bengals handle it if they are behind and getting beaten up on and there might be a chance it's all too much for them. I am not sure that will happen, but I still think this has Pittsburgh win written all over it.
The Cadle Guys
The linebackers (Pittsburgh) - The Steelers always need Big Ben to stand up and play well, but as we get to the business end of the season as they take on a major rival, it is time for those old heads to come to the fore. Harrison, Woodley (pictured), Lawrence Timmons and the youngster Stevenson Sylvester need to let the Bengals know what win-or-bust football is all about. They will have to make sure Cedric Benson is kept in check if he gets through that line and if they can get to Andy Dalton and put some real pressure on, it might be enough to get the win.