Cry me a Rivers
Kevin Cadle laments Philip Rivers' poor form as he goes head-to-head with Aaron Rodgers.
Last Updated: 04/11/11 5:04pm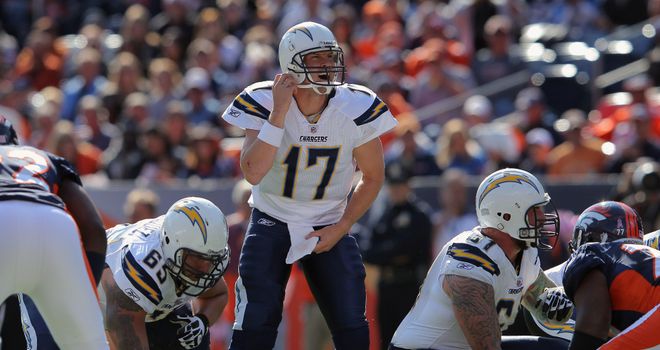 The Green Bay Packers might be the only 7-0 team in the NFL and the reigning champions, but I am not entirely convinced.
That might seem a little critical and it might not become 7-1 this week, but I still have my reservations about the Pack. They have so many injuries in that defensive backfield there's no way they can be the force they were last year.
They have always relied on Charles Woodson, Clay Matthews, AJ Hawk and that linebacking crew to make plays that keep them on the winning side because teams can score on them deep. Now that's all very well in the regular season, but I am sure Mike McCarthy would love some numbers back before they even start thinking of the play-offs.
Matthews is still the star of the show, but it might be that they need to start spreading the load, bringing another pass rusher or two to help him out. They do, though, get to the quarterback and on Sunday, they are coming up against one who is nowhere near the top of his game.
Philip Rivers is usually one of the NFL's premium quarterbacks but this year it just hasn't happened for him. He is way down in 19th in the rankings, has a minus turnover ratio and has only thrown seven touchdowns, which is of course an average of one a game.
Admittedly losing Antonio Gates to injury has not helped that San Diego passing game, but they really need more from Rivers. The Chargers have never been the most solid and dependable of teams at the best of times, so it's gonna hit them hard when the one guy who touches the ball on pretty much every offensive play is turning it over.
I guess it's just the same old story, different personnel for them but still head coach Norv Turner, though. Last season they had dreadful problems on special teams which hurt them every week and as a rule, San Diego has always had the talent, but rarely produced results. Again, last year they led the league on defense and offense, but what did they win? Nothing.
Even then, everyone thought they suffered because of a slow start. But what happens this year? They get away to a nice 4-1 start, but lose two in a row and all of a sudden find themselves back at sqaure one.
But don't feel too sorry for poor old Norv, he's used to it. Heck, he works for a franchise that sacked Marty Schottenheimer after a 14-2 season, so whatever he does all he's ever gonna hear is 'we shoulda kept Marty, we shoulda kept Marty!'.
Flattering
They still have good players though and that cannot be ignored. Mike Tolbert has been another major absentee but Ryan Mathews has come good again. He is one of a number of running backs in the NFL that does far more than just carry the football.
He is their leading receiver as well, but it might be time for Rivers to rediscover his accuracy and his wide receivers, because those Packers linebackers will be looking for him.
The Chargers defense needs a big game too. In fact they just need any sort of game, because yet again this season they are flattering to deceive. Like I say, they had the best defense statistics last season but we all know what the saying is about statistics!
And this year they might be hard to gain ground on, but they are not that difficult to put points on. We often talk about bend-don't-break defenses, but this is more break-don't-bend!
But they wouldn't be the first to suffer at the hands of Aaron Rodgers and co, would he? As Steve Young rightly said, he really is too cool for school. His arm is hot and his receivers are even hotter.
If you don't get burned by Greg Jennings, you get burned by Jordy Nelson. And if you don't get burned by Jordy Nelson, you get burned by Jermichael Finley. And if you don't bet burned by Jermichael Finley... well, you get the picture.
But they do have a problem this week on that offensive line. Left tackle Chad Clifton is out which considerably weakens the protection Rodgers is used to. San Diego might not possess a sack machine, but it is certainly somewhere they will be looking to apply some heat.
Kev's Call
Take away their respective issues and the bottom line is that since pre-season began San Diego has only won one game against a team that has scored 21 points or more. The Packers have done that in every game this season and are averaging 32 points. Statistics have not always been a true reflection of what we can expect from the Chargers, but in this instance, I think we can trust them. Green Bay have one or two issues to iron out, but they should still go 8-0.
The Cadle Guy
James Starks (Green Bay) - The Packers are never going to be a running offense as long as Rodgers can raise his arm, but Starks is still a valuable weapon. Short, hard yards are his speciality, so he will always be a major influence come the play-offs. But you cannot underestimate his blocking capabilities and with a big hole in that line this week, they will need him more than ever.