Mile High and dry
Tim Tebow might be big news, but he won't be able to stop Detroit winning in Denver, says Kevin Cadle.
Last Updated: 28/10/11 3:40pm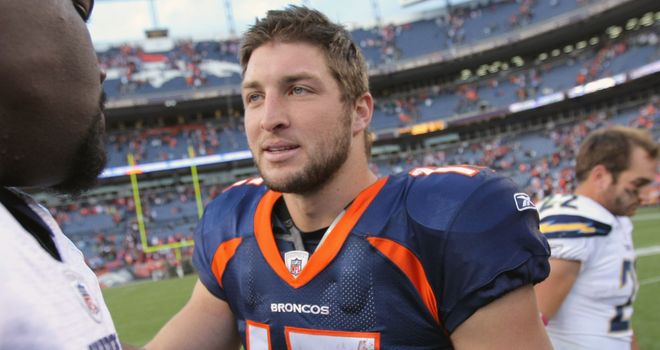 This is not going to be Prime Time by any means, but is a chance to look at another couple of young quarterbacks in action.
Matthew Stafford is in his third year with Detroit and starting to fulfil his promise, while in Denver Tim Tebow is a rookie who we have not had a real good look at yet on Sky Sports.
And trust me, he is going to make interesting viewing. The deal with Tebow is, first and foremost, he can't pass the ball. That might sound pretty serious for a quarterback, but it is not the end of the world completely.
It means Denver cannot really run a pro offense right now, but Tebow gives them so much more that makes up for it. The last four times he has played, they have scored 14 points or more in the fourth quarter, which tells you this kid has a never-say-die attitude, and will keep fighting all day long.
You cannot coach that, you cannot instil it. But you can practice at throwing the football and in time, he will become more accurate. Rookie quarterbacks are going to make plenty of mistakes anyway; I would rather have a fighter messing it up than a guy who's head is gonna drop every time he messes up.
And right now, that Denver offense has gotta cling onto any positive they can. They have just traded their best receiver, Brandon Lloyd, and their leading rusher, Willis McGahee, is sidelined with injury, so there is not much hope around Mile High I'm afraid.
But if you wanted a guy with you in the trenches, I would pick Tim Tebow over most.
Capabilities
Detroit have a battle of their own on their hands right now. Much like Buffalo, when they were making that great start to the season, I told people to reserve judgement and see what happened when they lost that first game. Well, the Lions lost it. And then lost the second one.
A 5-2 record is a much truer reflection of this football team and their capabilities. Stafford is a quarterback who can get the job done, but let's not forget he was out inured at the tail-end of last season, when they actually started to look like a team that could win football matches.
They are saying he is struggling this week with an ankle injury, but I think that might just be a bit of propaganda. Shaun Hill is their back-up but I would expect to see Stafford out there on Sunday night.
Jahveed Best won't be thanks to a concussion and they really could've done with tying up that trade for Ronnie Brown last week. Without Best, they don't really have a running game and although Keiland Williams will come in at running back, these back-up players are back-up players for a reason.
But, Detroit do have Calvin Johnson and to be fair, he has been outstanding all season. If he and Stafford can connect and they can get some sort of ground game going, I do think the Lions can silence what promises to be a loud Mile High crowd.
Kev's Call
Sometimes the NFL throws up games that might not be the best, but they are well worth watching - and this could be one of them. Two young quarterbacks, two struggling offenses but a whole lotta points to prove. Detroit has the edge on defense, providing they can curb that aggression that leaves them open to the run in particular, which should give them the edge overall. I know they have lost two in a row, but I still think they have the tools to go to Denver and do a job.
The Cadle Guy
Tim Tebow (Denver) - He is no Drew Brees when it comes to passing but this boy has plenty of other characteristics that will serve his team so well - and he will need all those battling qualities to give the Broncos any chance. If he had his major offensive weapons out there alongside him, he would stand a better chance, but if Denver are going to get anything here, it will be thanks to their rookie quarterback.