Plenty to Ponder
Minnesota's season is on the line at Green Bay says Kevin Cadle - and on their rookie QB's shoulders.
Last Updated: 21/10/11 5:28pm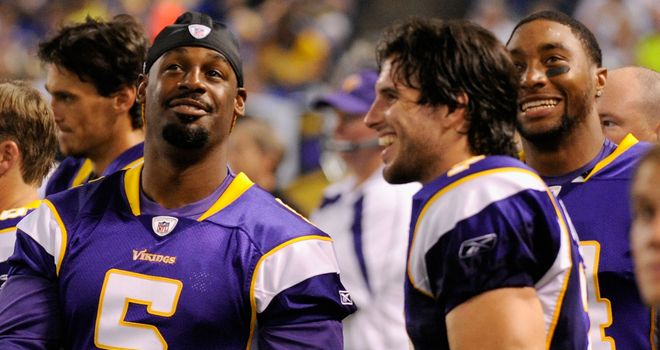 If the Minnesota Vikings go 1-6 it will be their worst start in over 20 years. And this season will be over for them.
This is their last stand and the last place they want to be making that is in the home of the world champions, the 6-0 Packers.
Lose this - and I think we all agree they are the huge underdogs - and it will be curtains for Minnesota. They are not going to sneak into the play-offs with a Wild Card this year, so there is going to be a lot of soul-searching to be done over the second half of the season.
There will be some serious questions asked, too. Offensive co-ordinator Bill Musgrave will need to answer some and so too will Donovan McNabb. I am not sure who is quite to blame, but something is going very wrong.
The harsh truth is they should have started the season 4-0. They were leading by double figures going into half-time yet somehow threw those games away. And if a team is kicking itself in the butt like that, what can any coach do?
Well in this case... bench him! It says something when you drop a seasoned pro like McNabb in favour of a rookie, especially at quarterback and especially against your divisional rivals, but that's what Leslie Frazier has done.
So now, their entire season rests on the shoulders of Christian Ponder, a 23-year-old rookie who has nine NFL passes to his name. Well the one thing Ponder will find out is that this season at least, the Vikings don't really have much going on with those receivers. That might just be what did for Donovan.
Percy Harvin, Bernand Berrian, Michael Jenkins and Visanthe Shiancoe are just not coming up with the yards right now. It might be down to bad throwing but one thing is for certain, it's not through the want of trying.
And that is where you have to question Musgrave's calls. They have the best running back the NFL has ever seen in Adrian Peterson, yet all they seem to do is throw, throw, throw. It's not as if Adrian is not willing to put in the yards either; this guy will work all day long. But he can only do that if they give him the ball.
Dropped
I don't know who has been making the play calls but maybe the fact they have Ponder in, will see Peterson get the percentage of possessions he deserves.
I would love to give them a chance against the Packers, but it's hard to. When a side is 6-0 and their biggest beef is a couple of dropped passes on their way to that sixth win, then you know how things lie in Green Bay.
Aaron Rodgers and his receiving corps, Greg Jennings and Jordy Nelson in particular, have just picked up where they left off last season and are looking just as potent. And the fact that they are talking about spilled catches is a good sign; they're better off getting it sorted now before it comes back to haunt them when it really matters.
It might be a nice idea to try and get that running game going as well. It's hard to criticise the Packers but there is still a lop-sided look to their offense. They've rushed for 585 yards and passes for 2,500, so it's not hard to see where they can make up ground. Literally!
James Starks does the majority of the work while Ryan Grant is back from injury so may just be taking time to get back into full flow. John Kuhn is the guy they turn to to take it into the end zone and with Rodgers racking up 2,000 yards and 17 TDs already, it's not hard to see why he hasn't had much on his plate.
Kev's Call
This is the easiest one of the season so far. A rookie against the reigning world champions? Heck, once this is done I'm off straight down the bookmakers, to put it all on the Pack. They are even at home, just for good measure. We have seen some rookie quarterbacks come in and play with no fear, but Ponder is in a struggling team and is up against a Green Bay defense that has had some injuries, but still has Charles Woodson, AJ Hawk, BJ Raji and those other big names playing well this year. It might not be as one-sided as we all think, but there is no way the Vikings can win this.
The Cadle Guy
Ryan Grant & James Starks (Green Bay) - It's time for the Packers to start putting some rushing yards on the board. Minnesota's defense is not the worst in the NFL but you would think that Rodgers and co can get some points on the board and then they can change tact and start running the ball. Green Bay are clearly going to be right in the hunt for the Super Bowl again, but need Grant and Starks firing before they reach the play-offs. They might not get a better chance to put a few things right in gametime.