The Wembley way
With both defenses an issue, Kevin Cadle expects the Bears and Bucs to trade points at will at Wembley.
Last Updated: 21/10/11 8:17am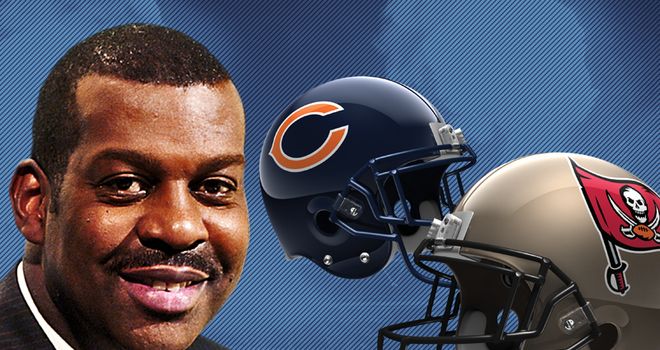 It's always important to come into the Wembley game on the back of a win - and both Tampa and Chicago are doing just that.
Not only does it send you on a trip in confident mood it puts them in the right frame of mind for a game that is always important to how a team does for the remainder of the season. After this both go onto a bye week, so win on Sunday and it's two weeks of happiness, lose and it's two weeks of hell.
And this whole trip is something completely different. On and off the field of play.
Some players won't even have been to England before, so it's a chance to experience that, but most of all it is a time to hang out with your team-mates, spend all day, every day with one another and, if you've got it right, bond as a team.
Which is why I am surprised the Chicago Bears are not rocking up in London until Friday. The Tampa Bay Buccaneers landed here on Monday and have been seeing the sights, acclimatising and winning over the NFL fans here in Britain.
To be honest, the Wembley game has not really been going long enough for a pattern to have been established, but for me, the Bucs have got it right. Two days to acclimatise is just not enough and I just don't understand the Chicago thinking.
The stakes are high here, as well. It might only be Week Seven, but a win here would be huge.
For Chicago it's all about the Wild Card. They are not going to win the NFC North unless something spectacular goes wrong in Green Bay, so for them it is all about getting one of those NFC Wild Cards. They are 3-3 right now and 4-3 is of course, a step closer to that.
Tampa might just have the edge on New Orleans in the NFC South, but you would expect Drew Brees and co to be champions again, which leaves the Bucs in that Wild Card hunt as well. There are not too many obvious candidates leaping out in the NFC, so if they were to win here it would give them that advantage over Chicago which could be crucial in terms of their play-off hopes.
Concentration
Both teams need this 'w' to stay in the hunt. And both teams need to find some consistency on either side of the football to take into the second half of the season.
Tampa showed that last week. Two or three times they had the chance to put New Orleans away, but couldn't - simply because right now they cannot maintain that reliability and concentration over the course of 60 minutes.
But that is because they are a young team and still a work in progress. There are one or two veterans dotted about that side like Ronde Barber (15th year cornerback), Jeff Faine (9th year center) and Sean Jones (9th year safety) but maybe not enough to keep those youngsters calm.
And one of those Tampa veterans has just about gone missing this season. If anyone sees Kellen Winslow wandering around Wembley on Sunday afternoon, please point him in the direction of that Tampa offense and his quarterback Josh Freeman.
Tampa has no real experience or ability in that receiving corps, so they need Winslow to start producing from tight end. And right now 257 yards from six games is not good enough; not only by his standards, but by what his team requires right now. They have improved a little through the air, but they really need Winslow to start getting into ball games because the short pass is their best option right now.
Maybe he should take a look at running back and see what Earnest Graham has done. Earnest is not the starter on this team but with LeGarrette Blount missing last week, he came up big against the Saints with 109 yards. It looks like Blount will be missing again on Sunday, so Graham needs to make sure he brings that sort of game with him to London.
It's pretty much the same deal for Chicago as well. They do not have a great deal of consistency either and they do not have many exceptional men for Jay Cutler to throw the ball to. The one bright spot for them was Devin Hester's performance last week, although his kick-off returns are where his real potency lies. But he does have that explosiveness you look for outside and if he takes a liking to Wembley, he could light the place up.
Improvement
Other than that, it's a familiar story for the Bears on offense: The Matt Forte story. Forte has over 900 yards running and receiving this season, which is 46 per cent of the Bears total offensive yardage. It says something about Forte when every team knows they need to shut him down yet they still can't. And it says even more about offensive co-ordinator Mike Martz that this Bears offense is still a one-man show.
There is nothing wrong with Cutler as a quarterback and the one improvement the Bears have made is that they have learned to look after him a little better. He still takes plenty of hits and is no stranger to being sacked and they still need to get Forte and maybe even Marion Barber running the ball more, although that short pass to the backfield is just as effective in getting the ball out of Cutler's hands quickly.
He can expect some real heat from that Tampa front four again, but as is often the case at Wembley, I think this will be a game where offenses are on top. The Tampa defense is still finding its way and the Chicago defense has some big names, like Julius Peppers, Charles Tillman, Brian Urlacher and Brandon Meriweather, but it might be a case of a year too far for some of those guys. You cannot win football games with names alone.
If it rains - and let's face it, it usually does when the NFL comes to Wembley - it will help the Bears. If that famous pitch cuts up - which it usually does - it will suit them down to the ground because Soldier Field has the worst surface in the sport. It will be like a home away from home. It's just a shame they have only made London their home for two days before the game.
Kev's Call
There is plenty at stake and neither side can really afford to lose, which is great for us neutrals heading to north west London on Sunday. I think we are in for a real see-saw encounter, with both sides unable to maintain any sort of consistency over the course of a game. Points should not be too hard to come by either and I can see both getting into the mid-twenties, and it might come down to the fourth quarter. And in that case it has to be the Bucs for me. Freeman has already shown us he can bring his team from behind to win games - and he might have to do that on Sunday.
The Cadle Guy
Earnest Graham (Tampa Bay) - There seems little chance of Blount making it, so that means Graham coming in as the starting back again. Last week he had no problems and if he can get to grips with that Wembley turf, he should be able to pick up some short, fast yards against a Bears defense that might have lost a little over the past year or two. Forte is always the key man for Chicago, but Tampa needs a running game to give Freeman options and make sure they are not dependant on a receiving corps that has been far from convincing.