Air to the throne
Cam Newton is football's Michael Jordan, says Kev, as the Panthers do NFC South battle with Atlanta.
Last Updated: 14/10/11 3:04pm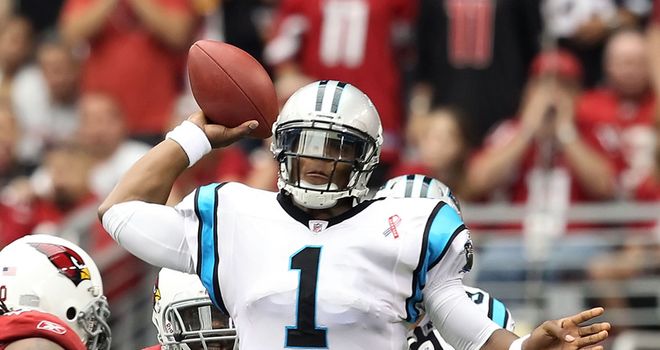 This is the first time we get to look at Cam Newton on Sky Sports and I can assure you all, you are in for a treat on Sunday.
It's hard to measure the impact he has had in his rookie season at Carolina and the only thing I can equate it to was when a young Michael Jordan burst onto the scene in the NBA. He really is that good - and can go on and achieve what he wants.
He won a junior college championship in his first year at Auburn, he won the Heisman Trophy and then was the first overall pick in the draft, so he has clearly got the goods, yet there were still plenty of people doubting if he could play in the NFL.
I've got to say, I wasn't one of them. Those people make a job of over-complicating things, looking for things that aren't there. I must have seen Newton about six or seven times at Auburn and it was quite clear then that he had all the attributes to be successful. He has a great arm, he can run with the football and almost unique abilities.
The closest I have seen is Michael Vick when he came through but the big difference Cam has is he is working with established, experienced receivers. He's got an outstanding guy to work with in Steve Smith, whereas Michael only had Roddy White - and a young Roddy White, not the one who will be leading the Atlanta receiving corps in this game.
But what I like most, is Cam has the maturity you need to be a quarterback in this league. That temperament and will to win, to get the job done are also very impressive for a young man of 22. We saw that last week against New Orleans when it was pretty much him against the world, or at the very least, the Saints. Ok, they lost the game, but it was still an impressive display.
The trouble is that pretty much sums up the Panthers' season so far. Cam puts up good numbers yet they get beat. And they get beat narrowly. They might be 1-4 but their four defeats have been by an overall margin of 24 points, which shows they are not a million miles away. It's just the little things they are doing wrong and those mistakes are proving costly.
Consistency
But it shouldn't come as a major surprise. This was the team that finished last in the NFL last year and they have re-signed the bulk of that squad. Newton and that offense are averaging 11 more points a game this year, it's just they cannot seem to get that consistency on defense - either over the course of several weeks or the 60 minutes of a game.
I do think they are going to struggle to contain Roddy White this week and just cannot see anybody in that backfield with the ability or experience to contain him.
Roddy though, is not setting the world on fire and neither are the Falcons. They have already lost more games (two) this season than the whole of last year, when most of us expected them to move up to the next level. It is a difficult one to work out, but there has been a definite switch in their focus.
The Atlanta of last year had Matt Ryan, as it still does, but it had Michael Turner's running game to complement his arm. Turner is one of the league's most dependable running backs but in the last three games he has totalled 146 yards. Instead, we have seen Ryan open the gates and throw, throw, throw.
I guess that's what happens when a team is losing and finds itself in a hole, but if I were Mike Smith I would try and get back to doing what made them so successful before. Especially as the passing game isn't exactly red hot either. Ryan has thrown the third most passes this season behind Drew Brees and Tom Brady, yet none of his receivers have stood out.
He does throw the ball around to several receivers, but when a veteran like Tony Gonzalez - as great as he is - is your main touchdown threat from tight end, then something ain't right. With White and now Julio Jones in there I really did expect them to stretch the field a lot more than they have.
They are also not quite up to speed on defense either. They gave up a lot to get Ray Edwards in from Minnesota, but so far he hasn't been able to make any real impact. In fact, it's been like that across the board for Atlanta this year. Last year they had the running game, the passing game, the defense and the home record nailed down; this year things just haven't fallen into place.
Kev's Call
Although it has been a slow start for the Falcons, I would still rather be in their locker room because they know they have the basis for a successful season - they just need to get Turner and that running game going again. Whoever loses this will end up bottom of the NFC South which will bring a little more pressure but as the home team Atlanta should be the favourites. But I am going to stick my neck out on this one and go for the surprise. I'll take the Cam and the Panthers to pull off a win on the road.
The Cadle Guy
DeAngelo Williams (Carolina) - I know this is our first look at Cam Newton and on form, he will be the main man, but it's time the Panthers started helping him out. A running game would give him more options, bring the play action into the equation and Williams is the one man that can do that for them. He had his first 100-yard game of the season last week and they put decent points on New Orleans, so there is definitely something to build on.