Dream comes true
KC expects Philly to finally live up to their Dream Team billing - at the expense of his Buffalo Bills team.
Last Updated: 07/10/11 9:38pm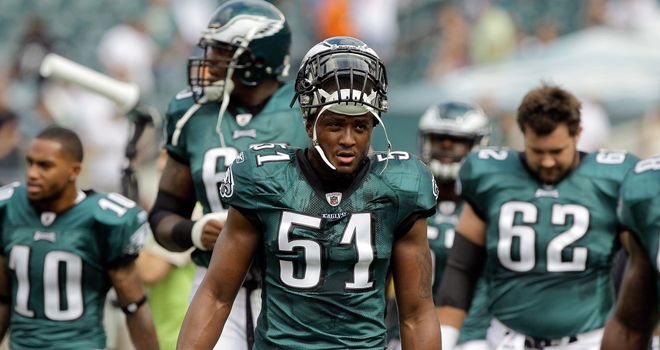 As a Buffalo Bills man I would love to sit here and tell you they are the real deal.
I would have loved to have been sitting here telling you they were 4-0 as well, but I stand by what I always say about these teams that surprise us at the start of a season: Let's see how they react after they've lost.
Well, Sunday night is where we find out what this Bills side is all about. They had been producing some sensational comebacks to win those first three games but last week could not hold onto a double-figure lead against the Cincinnati Bengals.
This week they are up against a Philadelphia team that are in complete disarray and who blew a big lead of their own against San Francisco last time out.
Attitude might be a problem in Philly but it is the one area where the Bills have improved this year. Physically they have one of the biggest teams in the NFL, but the mental approach seems to have been tightened up and the fact that Chan Gailey is into his second year as head coach and a lot of the players are now bedded into his system, means that some of the intangibles are starting to fall into place.
If only the same could be said for the Eagles. It's fair to say the 'Dream Team' have had a nightmare so far!
It was always going to be hard to make a fast start once they'd signed so many new players in the close season, but I think you gotta start looking at their coach Andy Reid for some answers.
Last time we saw them on Sky Sports, they were cruising against the Giants, he made one bad coaching call, they lost momentum, lost the game and it's been that way ever since.
It's been amazing how many times they've collapsed in games too. All three losses they have led in and I am not sure what the deal is. Yes, when you sign up for a team like the Eagles you know the ticket you're buying, but half of this team haven't read the ticket properly and the other half it seems, cannot take the baggage or the pressure that comes with it.
Ridiculous
And what happens then is what always happens historically to Philly: they go into pass mode. That is the call that keeps coming from the sidelines and all of a sudden their running game and a very talented back in LeSean McCoy become redundant.
Okay, they have one of the premier quarterbacks in Michael Vick and some tremendous talents out wide in DeSean Jackson and Jeremy Maclin, but that is not enough to win you football matches. Last week Michael threw for over 400 yards and two touchdowns but they still lost.
And when they did try and run the ball, we saw that ridiculous turnover from Ronnie Brown on the one-yard line against San Francisco. It was a crazy thing to do, but maybe if Coach Reid had used his backs a little more, Brown might not have felt the need to try and toss the ball away in the tackle.
The turnover count is not pretty for Philly already this season, but they are also lacking real leadership on that offense. Someone like Brian Westbrook was a real presence in that unit and a voice for the younger players to listen to. Vick might have all the talent in the world, but he is not a vocal quarterback. And he is certainly no Tom Brady or Peyton Manning when it comes to pulling his team together.
The Bills have got those experienced players to go with the young guns. Shawne Merriman came in last year and the addition of Nick Barnett from the Packers has not only given them a decent linebacking unit, but also some know-how. What they do lack on defense is the stats for sacks, but that's not to say they don't get through the line and apply pressure.
On offense they have got a quarterback they know they can rely on in Ryan Fitzpatrick. He's ninth in passing this season and the fact that his touchdown to turnover ratio is 4-1 shows you that this guy is not trading on early-season luck. He knows how to work with Steve Johnson and if they can get Fred Jackson going on the ground, they have everything they need to build on their first three games.
But that is a lot of ifs. This game is a lot of ifs. We will find out on Sunday night if the Bills are the real deal and if the Dream Team are more than the nightmare they have been so far.
Kev's Call
I will be joined in the studio by former Eagle Cecil Martin on Sunday, but as he's more concerned about what's going on with the University of Wisconsin, I am not gonna worry about him. But I am worried about the Bills. Not so much where they're going, but because they are coming in against a team that needs to win this. If Philly go 1-4 it's gotta be curtains, so I am expecting a big turnaround from them. They might have to wait until the last play of the game to seal it and this is going to be a real nail-biter, but I am going with the Eagles. And believe me, this ain't no Nick Halling call! I am going against my team because I think they will lose, not because I wanna jinx the opposition!
The Cadle Guy
Fred Jackson (Buffalo) - The one way to take Philly on is straight up the middle. They are giving away seven yards a carry this season... seven yards! Fred is a guy that can get it done and if he does that on Sunday then the Bills have a shot. They had their problems last season with Marshawn Lynch but Jackson can be that 1,000-yard man they need to complement Fitzpatrick and Johnson. I like the fact they they don't have to take him out on third downs either, because he can catch and keep hold of the football. They found themselves a quarterback, now it's time to see if they've found a running back.