GAA: Anthony Daly steps down as Dublin manager after six years in charge
Last Updated: 02/09/14 1:09pm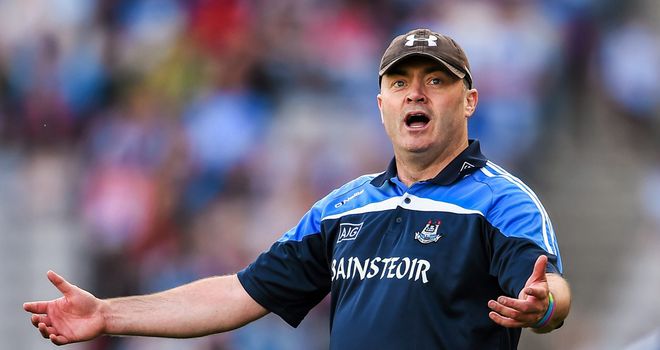 Anthony Daly led Dubiln to their first Leinster SHC title in 52 years
Anthony Daly has stepped down as Dublin hurling manager after six years in the position.
The Clare All-Ireland winning captain led Dublin to historic breakthrough successes during his tenure, which began in 2008.
Those successes included in 2011 a first national hurling league title in 72 years, beating Kilkenny in the final, and in 2013 the county's first Leinster senior championship in 52 years.
Daly said on Monday night: "I just wanted to give myself as much time to make sure that I was doing the right thing, and just to sound the lads out about what they were feeling.
"I just feel that everything comes to a natural end one way or another. I felt it was time to cut the cord and move on."
Anthony Daly
"I just feel that everything comes to a natural end one way or another. I felt it was time to cut the cord and move on.
"That's life – there's a certain lifespan in everything and I think it's the best move for everybody, for players and maybe management for a fresh approach to come in. There are still good players in there.
"For everybody involved, for myself, Richie (Stakelum), Shane (Martin), Hedgo (Ciarán Hetherton), Ross Dunphy and Tommy (Dunne), it's the best move all around and the players will benefit from a fresh approach and a fresh voice.
"I could have been tempted to stay going and try to knock a year out of it. We seem to have a habit of bouncing back after a poor year but the time comes for us all."
Praised
In a statement released by Dublin county board, Daly was praised for his contribution to the county.
"His loyalty to the cause, his expertise, his charisma and drive were key factors as Dublin climbed back up the rankings and moved forward from being one of the also-rans. Anthony leaves Dublin in a much healthier position having retained our Division 1A status earlier this year."
The statement acknowledged that this year had ended in disappointment with a heavy defeat by Kilkenny in the Leinster final, followed by another loss against All-Ireland finalists Tipperary but emphasised the achievements, which it said had brought Dublin hurling "back to the top table".
The 44-year old from Clarecastle also said that he felt his players would have had an inkling of a change in management after he thanked each and every one of them individually in the Dublin dressing room after the Tipperary defeat in July.
Speculation will turn to who will be in contention to replace him. There have been a number of names associated with any vacancy, such as former Tipperary All-Ireland winning manager Liam Sheedy, although his busy banking career might militate against such an appointment.
Former Cork coach Ger Cunningham is another who has been speculated on, as has his successor as Cork goalkeeper Donal Óg Cusack.
Daly for his part has been linked with the Galway hurling manager's position, which is up for decision, although outgoing incumbent Anthony Cunningham is interested in remaining.
Watch the All-Ireland final between Kilkenny and Tipperary live on Sky Sports 1 on Sunday from 2.30pm