Stannard set for home race
Brit ready to race hard on UK roads
Last Updated: 14/09/13 9:41am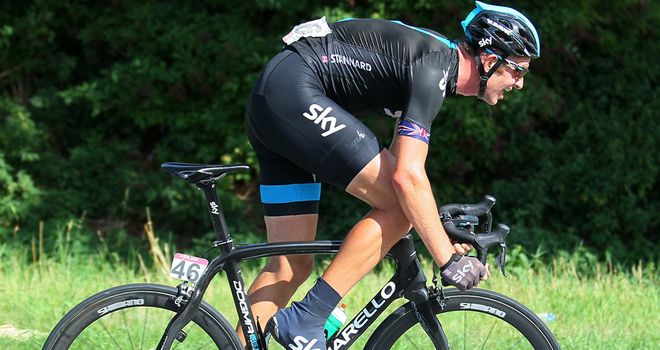 Stannard: Set to make fifth Tour of Britain appearance
Ian Stannard is ready to make his long-awaited return to the Tour of Britain as Team Sky continue their quest to win the race outright.
"We race all over the world but it's always nice to compete in front of your home fans."
Ian Stannard Quotes of the week
The former national champion is a favourite not just of the British public but fans around the world for his selfless but often attacking riding style.
Stannard is set to line up at the start of the race in Peebles, Scotland on Sunday as part of a strong six-man squad including team leader and 2012 Tour de France winner Sir Bradley Wiggins.
As far as the 26-year-old is concerned the start can't come soon enough, with the prospect of competing in front of a home crowd always a special one for Stannard.
"I haven't ridden this race for the last three years so I'm looking forward to getting back out there this time around," said the Brit.
"There's a real enthusiasm for cycling at the moment – especially following Brad and Froomey's Tour wins and the Olympics – so I'm really looking forward to competing again on British roads.
"We race all over the world but it's always nice to compete in front of your home fans. With such a high-level race in the UK naturally I want to be there."
Growing in stature
During his time with Team Sky three successive appearances at the Vuelta a Espana have kept Stannard away from his home race. The Essex-born rider is expecting plenty to have changed since his last Tour of Britain.
"Last time I raced it was with ISD in 2009," he added. "The race has grown and developed over the years. There are some good, long stages this year. With the exception of the time trial, the first half of the race is made up of stages which are all around 200 kilometres.
"That's a proper solid distance and it will be good preparation leading up to the world championships."
Alongside the tough and testing terrain, the use of reduced six-man teams, coupled with the lack of race radios, is often a recipe for exciting racing.
"It totally changes the race," Stannard admits. "You have to be on your toes at all times and ready for anything. Having six guys, it just makes for good racing."
If you are heading to the Tour of Britain don't forget to tweet about the race. Mention @TeamSky and you will end up on our interactive fan map.