Luis Suarez: Jamie Carragher says he could be Liverpool's best ever
Last Updated: 09/12/13 11:43pm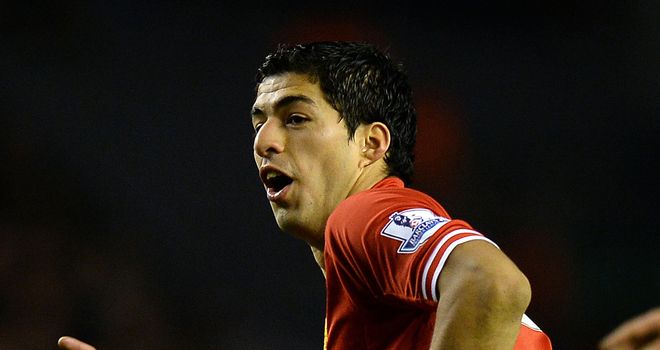 Suarez: could he be Liverpool's greatest ever player?
Jamie Carragher says Luis Suarez is probably the most naturally gifted footballer to ever play for Liverpool.
The Uruguayan striker has been in sensational form this season, scoring 14 goals in 10 Premier League appearances and has the best minutes-per-goal ratio in the top five European leagues.
And Carragher, who played alongside Suarez at Anfield, says he has the potential to overtake the likes of Kenny Dalglish and Steven Gerrard to become the club's number one player of all-time - as long as he stays for several years and wins trophies.
Best minutes per goal
Top 5 European Leagues
Saurez (64.1)
Ronaldo (72.0)
Diego Costa (82.6)Aguero (89.7)
Bale 90.3
Messi (95.6)
"I think he could," said the former Liverpool defender.
"I think in terms of ability as a player he could be the best player to play for Liverpool. That's in terms of natural ability and what we see week in and week out.
"But to be known as a top player or the best player at the club alongside people like Dalglish and Gerrard who have won European Cups he's got to win big games and trophies and cup finals.
"It's about longevity as well. He's got to be there all the time and put a great stint in for the club, but in terms of natural ability he's probably is as good as anything he club has ever had.
"Kenny Dalglish scored the winner in the European Cup Final, Steven Gerrard gave his performance in Istanbul and Suarez would need moments like that.
"If he did have moments like that he could be number one."
Race
Suarez is currently two goals ahead of Sergio Aguero in the race to finish as the Premier League's top scorer this season, despite missing the first six games of the campaign through suspension.
The forward was banned for 10 matches after biting Chelsea's Branislav Ivanovic last term and Carragher says it would take a repeat offence to prevent him topping the scoring charts at the end of this campaign.
He added: "Suarez is the top scorer now and how many games has he missed at the start of the season?
"I think he's played five or six less games. The only worry with Luis is if he does something stupid or bites someone again and misses 10 games.
"If he behaves himself I think he will be top scorer."