Up for the Cup
We talk to Ryder Cup legend Bernard Gallacher ahead of Medinah clash
By Paul Higham Twitter: @SkySportsPaulH. Last Updated: 24/09/12 5:08pm
With the Ryder Cup fast approaching, we talk to one of the most experienced men in the competition's history and get the lowdown from eight-time player and three-time captain Bernard Gallacher.
Gallacher had played and captained both home and away so who better to quiz on what the major factors will be in deciding the winners at Medinah.
You've been involved in 11 Ryder Cups in your career, what's the difference between playing and captaining?
For me it was all about playing, I know the captaincy was a great honour - but the big thing was playing, you wanted to play and test yourself against the best players in the world. Captaincy is a nice honour but it sort of signals the end of your Ryder Cup playing career so it has its downside as well the captaincy
I believe you're going to be on the official European team flight over to Chicago?
Yes that's true, I'm excited I've been invited to go, my wife and I are on the charter plane so we're looking forward to that. I think it's an invitation to past captains, it's a fairly new thing to be invited for away matches, you usually to get invited to the home ones. It's a nice touch as far as we're concerned - I'm a big fan of this new tradition! I still get a bit nervous for the team though and that'll be worse travelling with them, but I hope they play well.
"It just depends on the state of the match whether you put your best players out top or lower down. But the world wants to see that match although I wouldn't hold my breath about them playing in singles. Both captains will be expecting their best player to go out at the top so it's whoever blinks first really."
Gallacher on Tiger v Rory match Quotes of the week
How much of a factor will home advantage be?
It's a big one - the Americans do have a big advantage playing at home. The crowd can lift the players. It'll be very atmospheric around the first tee, it was amazing at Celtic Manor last time but the American crowds will want to try and better that this time around so it's a handicap to overcome for Europe - it'll be down to the captain and players to sit down and find a way to get over that.
Is it harder for the players or the captain playing away from home?
There's only been three winning European captains away since it started in 1927 so it's a big ask to win away from home, but the thing that's different now is that most of the players play regularly in America so that's a big help. They know the players they're up against, they know the course and they know what the crowds will be like and that never really happened in the past. You look at McIlroy, Westwood, McDowell, Poulter who all play over there and the rest of them play a lot there as well so that's why they'll be comfortable and that's why I think they can get a result over there.
What will be Jose Maria Olazabal's thinking behind his pairings?
There are some obvious pairings out there, Olazabal's not giving much away but you'd expect him to line up the first day with McIlroy and McDowell, that's an obvious pairing. Westwood could play with either Sergio or Luke Donald, and you'd think Poulter would play with Rose. Foursomes is a lot tougher so you need your steady players but in the fourballs you need more birdies so Colsaerts would probably come in for them. The difficulty for the captain is that he's got to leave four people out for each session and that's a lot to leave out so I'd expect Olazabal to rotate his team as much as possible - it's almost as difficult working out who to leave out as it is who to play.
With so much experience has Ollie or any of the more recent captains ever been in touch for advice?
I've spoken to a few captains but only generally, I've not heard from them wanting advice and I wouldn't expect to. The thing about being a successful captain is that you can only do it on your own and by doing it your way, that's the only way you can do it. Ollie is such an experienced player and has played in the Ryder Cup many times so I expect to him to take something from every one of his captains and add it to his own style. His vice captains are all good pros and they'll be key to looking at how the players are playing.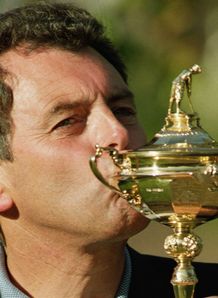 Gallacher celebrates winning the famous trophy
Speaking of vice captains, Clarke, Jimenez and Bjorn are three pretty big characters, will that help?
Darren Clarke said it right when he said his job was just to keep the players nice and relaxed so that they can produce their best golf. They'll only have an input as much as the captain wants but their main job is with the players. I always thought their main role was to be a friendly face inside the ropes, especially away from home, it's a lonely place sometimes inside the ropes. But if you're there and you see Clarke or Thomas Bjorn or Miguel Angel Jimenez that just gives you that extra bit of support. Miguel will be walking around smoking a big cigar and he'll exude relaxation and the players will pick that up - he's a really good character to have around on the course if you're feeling the tension a bit.
We've seen some high-profile problems with the American crowds before - do you think they will step over the mark?
I'm not too sure to be honest. American crowds are very competitive, they don't like to see Americans losing in America and I understand that the Chicago supporters have got the potential to be very vocal, and you do expect them to be very partisan. I don't expect it to be like Kiawah Island in any way when the spectators involved themselves in that match, I don't think they'll boo or jeer our players but I do think they'll be very vociferous for their side so I expect a lot of shouting.
Who will be the star players on each side?
Well that's quite an easy one, the star player for our side is definitely going to be Rory McIlroy, he's the world number one player and he's USPGA champion and he's very popular in America now so that should be interesting. The star on the other side is still Tiger Woods, the American public seemed to have forgiven him for his indiscretions off the golf course, if you've been watching Sky TV recently they've been urging him on to play well and of course they want their top man to beat our top man so whatever happens the focus on the European side will be McIlroy and on the American side Woods.
So having those two battling it out in the singles on Sunday would be the dream match?
That would be a dream yes - if you've noticed the FedEx have been lining them up and they've been playing quite a bit together and it's advantage McIlroy so far, but matchplay is a totally different situation. Tactically they may not meet in singles, it depends on where the captains decide to put their best players out in the line-up, but I definitely see them playing in foursomes or fourballs at some point because you usually put your best men out early in those matches.
Will it be a big statement then if one of the captains doesn't put McIlroy or Woods first out on the Sunday?
It may be a big disappointment to everyone if they don't meet in the singles but they may not play. It just depends on the state of the match whether you put your best players out top or lower down. But the world wants to see that match although I wouldn't hold my breath about them playing in singles. Both captains will be expecting their best player to go out at the top so it's whoever blinks first really.
And your Ryder Cup prediction?
A prediction from me is that if ever a match looked like a draw it's this one, and there's only ever been two draws in the history of the Ryder Cup, in 69 and 89, it could be a draw this time as well. I fancy a draw and that would mean we'd retain the trophy and that would be great news!
Bernard Gallacher is an ambassador for Golf Care, the UK's #1 golf insurer - www.golfcare.co.uk