Robinson targets promotion
Last Updated: 27/08/14 5:41pm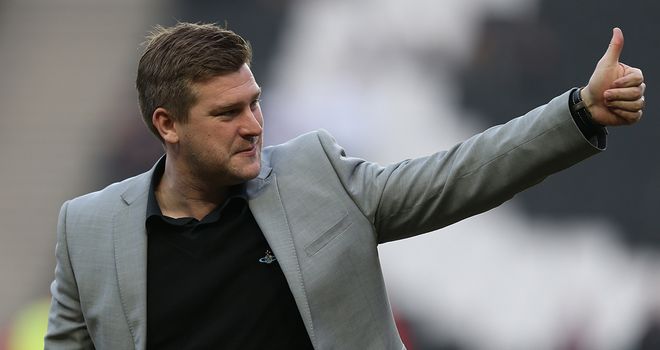 Karl Robinson: Pleased with his side
MK Dons manager Karl Robinson has challenged his players to secure promotion following their shock win over Manchester United.
Robinson's side pulled off the biggest win in the club's brief history on Tuesday when they dumped United out of the Capital One Cup with a 4-0 win at stadium:mk.
At just 33 years of age, Robinson is one of the most highly-rated managers in the Football League, and he has grand ambitions for the Dons, who were founded 10 years ago following a highly-controversial move from Wimbledon.
The next target for Robinson is promotion to the second tier of English football.
The Dons boss hopes the shock win over United will serve as an inspiration to his team, who sit seventh in League One after four matches.
"We need to get out of this league, it's imperative we do so for everyone's career," said Robinson, who was appointed in 2010 at the age of 30.
"Hopefully we can use this win to help us for the future.
"We need to build for everyone's career, we need to get stuck into where we want to go."
The 50-mile move from south London to Buckinghamshire shocked many football fans, particularly those who had a soft spot for Wimbledon, the 1988 FA Cup winners affectionately known as the Crazy Gang.
Robinson hopes the footballing world will now regard MK Dons with more respect following the victory over the 20-time English champions.
"We get a lot criticism nationally for obvious reasons," he said.
"But I don't think anybody can talk about our birth or our existence in the Football League from now on. We've well and truly put ourselves on the map. This shows we are going places."
A record crowd of 26,969 watched the win, which came courtesy of a brace apiece from Benik Afobe and Will Grigg.
Milton Keynes has a population of 229,941 and was only established as a town in 1967 with the main purpose of providing a home for commuters to London.
The Dons claim to have the highest number of Under-16 ticket holders in the country and Robinson thinks all the ingredients are there for the club to grow.
"We are everyone's second club here - they either support Manchester United or Arsenal, but hopefully we have turned a few young people now," Robinson said.
"Hopefully they will bring their mates to the games.
"It will be disappointing if we don't get a good crowd at Crawley (on Saturday). They need to support the team."
The drinks flowed in the home dressing room after the win, but further celebrations have been put on hold, Robinson revealed.
"We have a massive game on Saturday so we need to take stock," he said.
"We have no game after that for two weeks so if we win on Saturday, the players can go out and have as many nights out as they want in the following 10 days."