Blunt lands Doncaster role
Last Updated: 21/08/14 1:40pm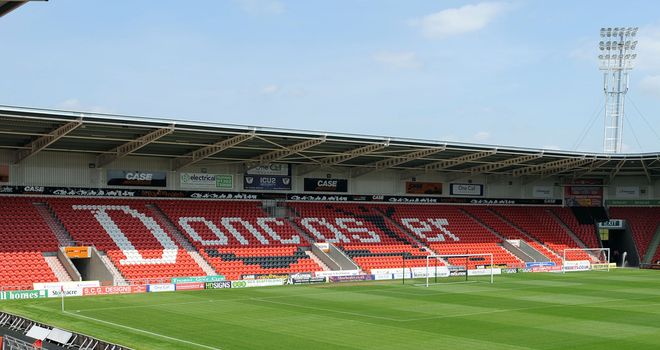 Keapmoat Stadium: Home to Rovers
Doncaster Rovers have announced the appointment of David Blunt as the club's new chairman.
As part of the reshuffle, major shareholder Dick Watson has been named as club president.
Rovers have been without a chairman since John Ryan resigned last November. But following Ryan's failed takeover alongside One Direction singer Louis Tomlinson this summer, the club has moved to fill the role.
Blunt is the former chief executive of Keepmoat PLC, the company formerly owned by Doncaster's major shareholders Terry Bramall and Watson. The 66-year-old previously turned down the chance to become chairman in January.
"I'm delighted to be taking on the role of chairman of Doncaster Rovers," said Blunt, who joined Rovers in 2010.
"Terry and Dick have done an excellent job in steering this club during the past few years, helping to fund two promotions and five seasons of Championship football.
"I hope that during my time as chairman we can build a solid foundation for the club to be successful both on and off the field.
"It is my vision that we try to create a clear pathway so that children in Doncaster can play for their hometown club, whilst simultaneously ensuring we become a regular fixture within the Championship.
"I'm also keen to invigorate 'In Rovers We Trust', the clubs fan engagement programme, which has helped deliver a range of successful projects in recent years and it is now time to step up our approach.
"The community of Doncaster deserve a club they can be proud of and we will aim to ensure that happens. We will never lose our community focus."
Watson, who first joined the club's board of directors in 2006, said: "Having beaten my recent health problems, I'm excited to become president of the club.
"I hope we can deliver a third promotion to the fans of Doncaster Rovers - they deserve it."