Little praise for Rochdale
Last Updated: 13/08/14 12:07pm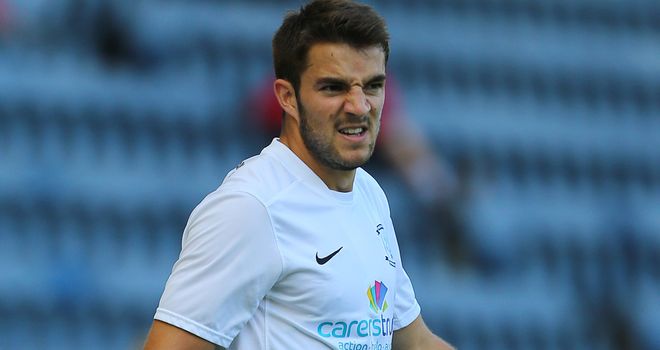 Andy Little: I scored against the run of play
Preston's Andy Little admitted his opening goal came against the run of play after his side beat Rochdale 2-0 in the Capital One Cup.
The former Rangers star scored in the 43d minute to turn the contest on its head after Dale had dominated the first half.
And Little conceded his team-mates knew they had some improving to do if Simon Grayson's side are to be successful this season.
"Rochdale dictated a lot of the play in the first half and we said at half time that we just needed to work a bit harder and get on the ball a bit more," said Little.
"We gave them an awful lot of time on the ball. My goal came totally against the run of play.
"Bailey Wright did well to set me away and I managed to get a run on them, one of few times I got any space.
"It just kept opening up for me and the goalkeeper took a bit of a gamble and I just managed to flick it over him.
"I was delighted to get off the mark and hopefully there's plenty more to come.
"We were much better in the second half, but we know we still need to improve looking ahead to the rest of the season."
Preston showed little ambition during the first half, but landed a sucker-punch after 43 minutes.
Andy Little raced down the right flank and while Dale goalkeeper Josh Lillis blocked his initial effort, Little bundled home the loose ball from close-range.
Grayson's side doubled their lead in three minutes into the second half. Lillis saved Little's shot, but when Dale failed to clear the resulting corner Neil Kilkenny rifled home.
Michael Rose cleared Calum Woods corner off the goal-line as Preston kept up the pressure and the home side were forced to play out the last 10 minutes with just 10 men, skipper Oliver Lancashire limping off after Keith Hill had used all his substitutes.
Hill was disappointed with his team's defending and finishing.
"We made a vital individual mistake for their first goal and then for the second," he said.
"We cannot make these mistakes and expect to compete against teams at this standard.
"I was reasonably content with the first-half performance but we have got to be better in both boxes.
"We got into the final third again exceptionally well, but we didn't pick out the right runner, the right pass, the right cross, right shot selection.
"It's frustrating because I have good players here and we try to play it the right way.
"I am very frustrated with both goals, but I won't lose my faith.
"The frustration is losing that type of game in the manner we have done, in the same way we did against Peterborough on Saturday."