Clough eyeing defensive options
Last Updated: 05/08/14 7:27pm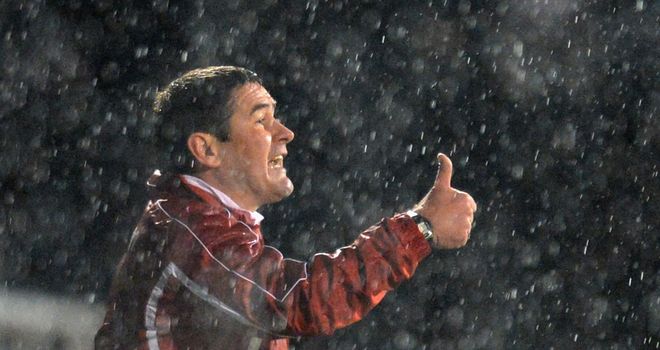 Nigel Clough: Defender his top priority
Sheffield United boss Nigel Clough admits his main priority is now to sign a new defender after signing striker Michael Higdon.
With Harry Maguire having moved to Hull for £2.5million this summer, the Blades are short on numbers at the back and still searching for fresh talent after talks on a loan deal for Derby youngster Mason Bennett stalled.
"We've got other priorities now and I think we need to get another defender in," Clough told Blades Player. "I think with Harry's departure, that still leaves us a little bit light back there.
"The search is going okay, there are quite a few names and it's a similar situation to the strikers, with us mulling over who is available and who we can get at the right price.
"I think we've got a bit of time, but if we can get one in before Saturday, that's all well and good. But it has to be the right one. The same as we did with Michael, we'll wait as long as we have to to try and ensure we get the right one.
"If you are signing any player, there's always a risk - people tend to work on the principle in football that if you get half your signings right, then you're doing okay - so we've got to weigh up every single aspect of the deal."
Clough has not given up hope of rekindling the Bennett deal and admits to being frustrated that the breakdown of a move for Rams team-mate Kieron Freeman appears to have had a knock-on effect on this switch.
"We've said we'd love to take Mason on loan and that we think it would be good for his development, we think it would be the right place for him to come at the moment," added Clough.
"There are other young players around as well, we know Mason, the staff know him and I think at just 18 years old, that's very important for him. But it's up to his club to sort out where the best place for him to go is.
"It just seems a shame that because the Kieron Freeman deal collapsed, because we couldn't meet the demands of him and his agent, it's a shame that Mason should suffer."