Stylish win pleases Tisdale
Last Updated: 22/03/14 9:24pm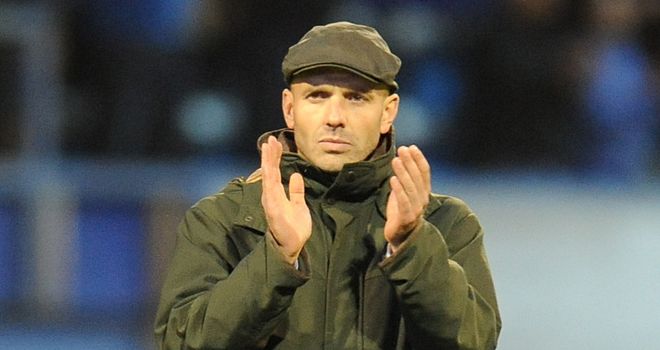 Paul Tisdale: 'Heartwarming win'
Paul Tisdale said the manner of his Exeter side's 3-0 win over Fleetwood had "warmed his heart" after it boosted their survival bid.
Jon Parkin's own goal set Exeter on their way midway through the first half before Eliot Richards' quick brace in the second period put the gloss on Exeter's first home win in five and a half months.
"The performance was secondary to the result, of course, but when you win 3-0 and play that well, it does warm your heart and give you plenty of encouragement going forward," Tisdale said.
"It was a very comprehensive performance and it wasn't over-complicated.
"We played with real tempo and we connected, there were no big gaps on the pitch.
"The players were totally committed and tough against a strong and athletic side.
"We played with care and freedom with our passing which, considering the position we are in and the anxiety around, was great and I am so proud of them.
"It is only one win and we have to keep our nerve whether we win or lose.
"It is an important three points, but it really was encouraging.
"I don't think it was fortuitous in any way, it went our way and it is amazing how that happens when the team plays with real gusto.
"I am delighted for Eliot Richards, who scored two goals, but there were four or five players that really stood out - especially senior players that have been given responsibility at the moment.
"It is a tough situation and they are raising their game."