Evans extends points lead
MW Arden driver extends lead at top of championship
By William Esler. Last Updated: 22/07/12 1:49pm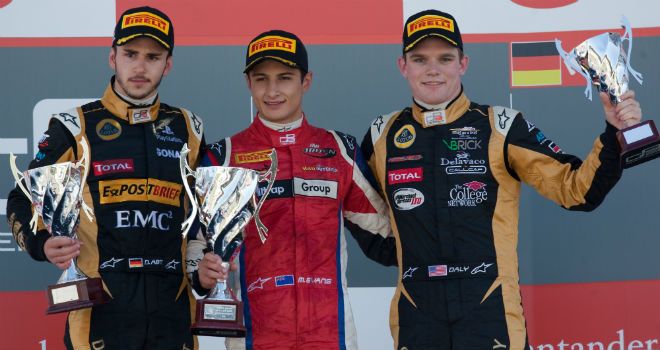 The race 2 podium (Image: GP3 Series Media)
MW Arden driver Mitch Evans extended his GP3 Series lead with victory in Race 2 on a sunny morning in Germany.
After rain heavily affected Saturday's race, the drivers were treated to much better conditions, but the race did not pass without incident.
Evans started from pole but Daniel Abt made a perfect getaway from P2 and the Lotus driver led into turn 1.
Behind them, Lewis Williamson, Alice Powell, William Buller and Vicky Piria came together, with the Trident driver being sent skywards. The safety car was called for whilst the debris was cleared.
The race got underway again on lap 8, and Evans dived past Abt at the hairpin to retake the lead. It wasn't long though before the safety car was called for again, as Fabiano Machado ran wide on lap 9 and got airbourne.
The race was completed behind the safety car, with Evans leading home Abt, and Conor Daly.
Evans leads the Drivers' Standings with an 18-point advantage over Lotus driver Aaro Vainio. Abt has now moved up to third and is the highest placed rookie in the Series.
"There's not much racing to discuss, is there? I didn't make a very good start - my mistake, I had far too much wheelspin and paid the penalty," said Evans.
"After that it was a question of being patient behind the safety car. Once we got going, I was keen to pass Daniel as swiftly as possible and there was a good opportunity at the hairpin.
"It's just as well I took it, with hindsight, because that first opportunity also turned out to be the last! It has been an odd weekend, but positive at the same time and I'm taking an 18-point championship lead to Budapest."
GP3 Race 2 - Germany
1. Mitch Evans - MW Arden
2. Daniel Abt - Lotus GP
3. Conor Daly - Lotus GP
4. Tamas Pal Kiss - Atech CRS GP
5. Matias Laine - MW Arden
6. Aaro Vainio - Lotus GP
7. Tio Ellinas - Marussia Manor Racing
8. Giovanni Venturini - Trident Racing
9. Patric Niederhauser - Jenzer Motorsport
10. David Fumanelli - MW Arden