Niederhauser wins in Germany
Rookie up to third in standings
By William Esler. Last Updated: 21/07/12 7:34pm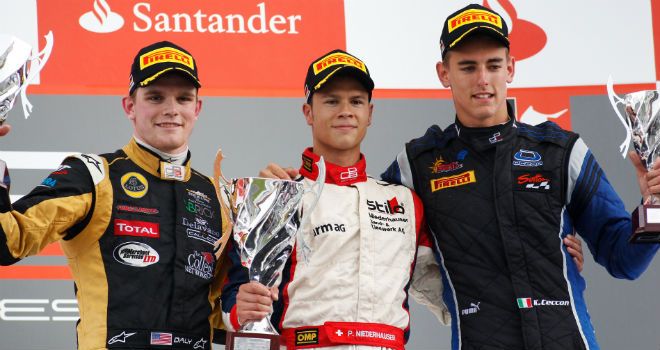 The Race 1 podium (Image: GP3 Series Media)
Patric Niederhauser took his second GP3 win of the season in a race heavily affected by rain in Germany.
As the cars lined up on the grid, rain started to fall and key strategic decisions had to be made on what tyres to start on.
Polesitter Daniel Abt and points leader Mitch Evans opted to start on slicks, as did Antonio Felix Da Costa, David Fumanelli and British driver William Buller.
However, during the formation lap, heavy rain fell, and the race was started behind the safety car. All of the drivers who had started on slicks dived into the pits at the end of the first lap, leaving Conor Daly leading from Niederhauser and Kevin Ceccon.
The rain, though, did not relent and the race was red flagged, whilst the FIA waited for conditions to improve.
Finally after a 15-minute delay, the race was restarted once again behind the safety car, with the race finally getting underway with seven laps to run.
Niederhauser quickly made his move, battling past the American to take the lead and he held on to take a victory which moved him up to third in the standings.
Daly was a close second, with Ceccon completing the podium.
GP3 Race 1 - Germany
1. Patric Niederhauser - Jenzer
2. Conor Daly - Lotus
3. Kevin Ceccon - Ocean Racing
4. Giovanni Venturini - Trident
5. Matias Laine - MW Arden
6. Aaro Vainio - Lotus
7. Tamas Pal Kiss - Atech
8. Daniel Abt - Lotus
9. Mitch Evans - MW Arden
10. William Buller - Carlin