Da Costa wins at Silverstone
Carlin driver picks up his second GP3 win
By William Esler. Last Updated: 08/07/12 9:54am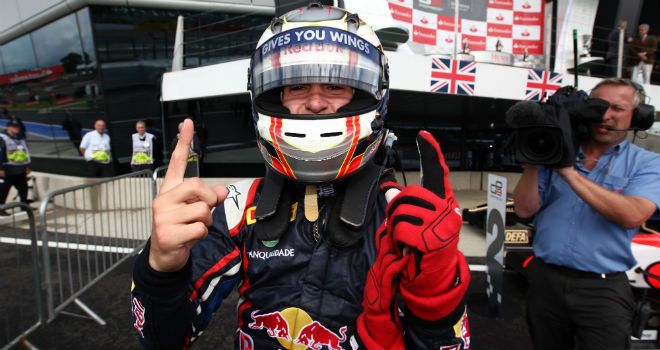 Felix Da Costa: Celebrates his win (Image: GP3 Series Media)
Carlin's Felix Da Costa came from third on the grid to take victory in race 1 of the GP3 Series at Silverstone.
With conditions improving as the afternoon progressed, and the preceding GP2 race having cleared a lot of the standing water, the fans, who had braved the weather and remained at the Northamptonshire venue, got to see a proper race start.
However, with one dry line created on the track, it was the odd side of the grid who got away best as Mitch Evans led from pole and Da Costa leapt into second place, ahead of Aaro Vainio.
The Portuguese slipped past the MW Arden driver on the run to turn 3 to take the lead - a lead he would hold until the chequered flag.
The rain which had disrupted much of Saturday's on track action stayed away, and Da Costa opened up a seven second advantage at the front.
Evans held on to take second and extend his Championship lead over Vainio who completed the podium.
"The circuit was half-wet, half-dry when the race began and I knew things wouldn't be easy," said Evans.
"I decided to race on a set of used slicks because I expected these to warm up more effectively on what I assumed was quite a cool track surface. My start was OK, but I was cautious into Turn One and Antonio Felix da Costa attacked into Turn Three. I had to be careful because he was on the drier outside line and I had to defend on the slippery side.
"We stayed pretty close for a couple of corners, but he was ahead and I spent the first half of the race trying to pressure him into an error. He didn't make one, though, and had started on new tyres - that proved to be decisive in the second phase of the race, when mine began to fade a little.
"After that I just concentrated on holding second and that enabled me to increase my championship lead. We also have some new tyres left, so I hope it's dry in race two: I'd quite like to use them..."
Britain's Alex Brundle came through to take a strong seventh place finish and will start on the front row on Sunday alongside Kevin Ceccon who finished eighth.