MLB: Record for Gonzalez
Rockies' star completes run of four straight homers
Last Updated: June 1, 2012 8:12am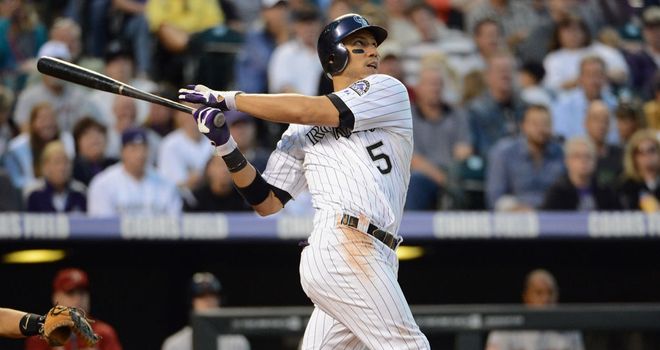 Carlos Gonzalez: Four home runs in four at-bats
Carlos Gonzalez became the first Colorado Rockies player to hit four home runs from four at-bats on Thursday.
Gonzalez smashed a three-run homer in the first inning as the Rockies eased to an 11-5 win over the Houston Astros.
His effort followed his three home runs on Wednesday night.
In total he drove in three runs and scored three times on three hits, while Michael Cuddyer knocked in three of his own and Marco Scutaro also homered as the Rockies piled up nine runs across the first two frames.
JD Martinez 'went yard' for the Astros, who lost all four games in the sides' recent series.
Elsewhere, the Detroit Tigers avoided being swept by the Boston Red Sox with a 6-3 win at Fenway Park.
Delmon Young knocked in a pair on three hits, including a homer, while Jarrod Saltalamacchia smashed a solo shot for the Sox.
In the day's other game, Aramis Ramirez and pinch-hitter Carlos Gomez both hit home runs as the Milwaukee Brewers beat the Los Angeles Dodgers 6-2.