Danvers' analysis
Beijing bronze medallist speaks to Sky Sports about Perri Shakes-Drayton's failure to reach the 400m hurdles final
By Alex Williams. Last Updated: 08/08/12 1:29pm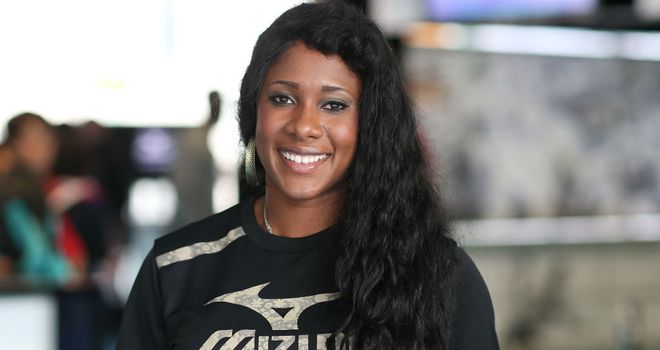 Tasha Danvers: Believes Shakes-Drayton can recover from Olympic disappointment
Tasha Davners has admitted her disappointment at Perri Shakes-Drayton's failure to qualify for the Olympic 400 metres hurdles final, but thinks she will come back stronger in the future.
Shakes-Drayton missed out on a spot in Wednesday night's final after Denisa Rosolova of the Czech Republic and Ukraine's Hanna Titimets were reinstated after initially being disqualified.
The 23-year-old finished third in her semi-final and had to rely on one of the fastest loser spots to progress, with her mark of 55.19 seconds proving too slow after UK Athletics' counter-appeal of the reinstatements was rejected.
But Danvers, who won a bronze medal in the event four years ago in Beijing after being picked ahead of Shakes-Drayton, has played down the controversy and believes her fellow Brit should have made sure her destiny was in her own hands.
"That's not the way you want to get into a final anyway, you want to get into a final by rights because of your performance. All this DQing, being in and out, that's all a sidebar," Danvers told Sky Sports.
"If you want to assure your position in the final you've got to run under 55 and I don't know what happened with Perri but she just failed to do that."
Tasha Danvers Quotes of the week
"The issue is that Perri needed to perform a sub-55 second time in order to make it into the final. That's pretty much the standard for any Olympics.
"If you look at my Olympics for example, in 2008, it was a different qualification because it was first four - there were no fastest losers - and there was one girl who made it that was above 55 - I think she ran 55.1.
"And she was very lucky because the top six in my semi-final ran under that time."
Time target
Shakes-Drayton came into the Games on the back of a personal best run of 53.77s set at Crystal Palace in June, but was found wanting at the Olympic Stadium.
"If you want to assure your position in the final you've got to run under 55 and I don't know what happened with Perri but she just failed to do that," Danvers said.
"My suspicion is that she's very comfortable when she's in lane three, for example, like she was in Crystal Palace and she can see and chase her competition and feel like she's in the race.
"But when she's just out there running her own race with no-one to chase she just gets a bit iffy."
She added: "I think the thing that confuses people is they see fast times and automatically think, 'right, that person can win a medal because when I look at the times no-one's running faster'.
"But there is a massive difference between Grand Prix racing and championship racing. They are two very different animals and they have to be approached completely differently.
Sally Gunnell and Tasha Danvers were speaking at the Mizuno Performance Centre - open to the public between the 24th July and 12th August at Centre Point Building, 101- 103 New Oxford Street. Visit www.mizunoseiei.com for further details.
"You can go out there and run one race and don't have to think about anything and go all out and you can run fast times.
"But when you have to think about, 'I've got to run again tomorrow, I've got to run again in two days' time, I've got to come in the top two, I've got to do this, I've got to do that', it starts to get very complicated.
Art form
"Figuring out how to make that happen when the time is right is, in itself, an art form."
However, Danvers believes Shakes-Drayton can iron out her problems and should be able to compete for medals in future major championships.
"It's not like she's 38, she's still a spring chicken and has managed to stay injury free for the most part," she said.
"She's a confident girl and a determined girl so all this will be a learning experience for her. I'm sure next time around we won't see these types of problems."
London-born Danvers originally planned to compete in her home Games but was forced to retire in June after a lengthy battle with injury.
However, her love of athletics remains as strong as ever and she insists that she is enjoying the Olympics just as much from a spectator's point of view.
Danvers said: "I can honestly put my hand on my heart and say I'm quite happy on this side of the finish line."