Commonwealth Games: Max Whitlock and Claudia Fragaoabe claim all-around gymnastics golds
Last Updated: 30/07/14 11:04pm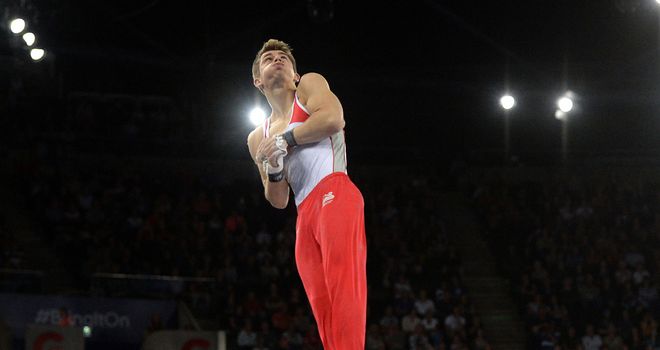 Max Whitlock: superb display in Glasgow
English qymnast Max Whitlock claimed his first individual all-around gold medal at a major competition with a stunning display at the Commonwealth Games.
The 21-year-old double Olympic bronze medallist added to the team gold England won on Tuesday with a near immaculate performance which underlines him as a serious medal prospect for the World Championships this October and for the Rio Games in two years' time.
England's Claudia Fragapane later won gold in the women's all-around final.
Fragapane, just 16, claimed the title with a total of 56.132 ahead of Ruby Harrold (55.232) in silver medal position, with Hannah Whelan (54.699) in bronze as England claimed every step on the podium.
Whitlock scored a total of 90.631 across all six pieces of apparatus at the SSE Hydro in Glasgow to claim the title ahead of Scotland's Dan Keatings (88.298) in silver medal position with England team-mate Nile Wilson (87.965) in bronze.
Whitlock has been targeting individual all-around success since London 2012 but was unable to showcase his skills at the European Championships earlier this year as the event was not included.
He did, however, beat Olympic champion Krisztian Berki in the pommel horse final in Sofia and won team silver for Great Britain with Keatings, Dan Purvis, Sam Oldham and Kristian Thomas.
British champion Whitlock achieved the best qualification score for the all-around final with 90.365, bettering the second highest mark by team-mate Wilson by 3.758 marks.
England and Scotland's gymnasts were all drawn in the same rotation, meaning they went head to head throughout the final which started for them on the floor.
World floor bronze medallist Purvis was the first to compete and he opened up his medal bid with an impressive routine which scored 15.300, while Baines achieved 14.633 and Keatings went slightly better with 14.800.
Wilson, who is competing in his first senior international competition at the Games and won five out of a possible eight gold medals at May's Junior European Championships in Sofia, slotted in behind Baines before Whitlock moved ahead with the best score of the rotation with 15.466 to underline his medal credentials.
The action then switched to the pommel horse where Baines came off to dent his podium hopes but Keatings stuck his routine and his smile said it all as he was awarded 15.533, which will no doubt fire a warning to Louis Smith ahead of Thursday's apparatus final.
Huge score
Whitlock again produced the goods with a huge score of 15.866 on the horse to sit almost a point clear of Keatings after two apparatus, while Wilson also stayed in contention, but Purvis came off to score 12.833, although he held onto fourth position.
Keatings was up first on rings and kept up the pressure before Wilson bettered his mark with 14.633. However, not to be beaten, Whitlock again produced the joint highest-scoring tally on the apparatus with 14.733 after giving the judges little to deduct to move further clear at the top. Purvis stayed in touch with 14.400 after his earlier tumble on the pommel horse.
The Scottish and English gymnasts then rotated to vault, where Wilson opened with a solid routine and, while Whitlock took a large step forward, he still scored 14.500 to stay in gold medal position.
A stumble back cost Baines, but a safe double twist vault from Keatings kept him in second place with Purvis holding onto fourth - half a mark back on Wilson.
Parallel bars were next up and Whitlock was the first of his group to compete and set the target with a score of 14.966, with Keatings achieving 14.766. Wilson's 15.433 was the best score of the day on the apparatus and made sure he would leave with at least a bronze medal after opening a gap on Purvis and closing it on Keatings.
Whitlock's score meant he took a two-point lead into the final piece, the high bar, where he was the last to compete.
Keatings threw down the gauntlet to Wilson with an emphatic routine of 14.766 and the 18-year-old responded with exactly the same score to slot into bronze medal position ahead of last man Whitlock.
The British champion did not falter despite the huge pressure placed on his shoulders and produced the best score of the day on high bar - 15.100 - to claim a well-deserved gold.
The Welsh trio of Clinton Purnell, Iwan Mepham and Harry Owen finished in seventh, 13th and 20th places, respectively.