Bisping ready for battle
UK fighter outsider for Sonnen showdown
Last Updated: January 28, 2012 11:26am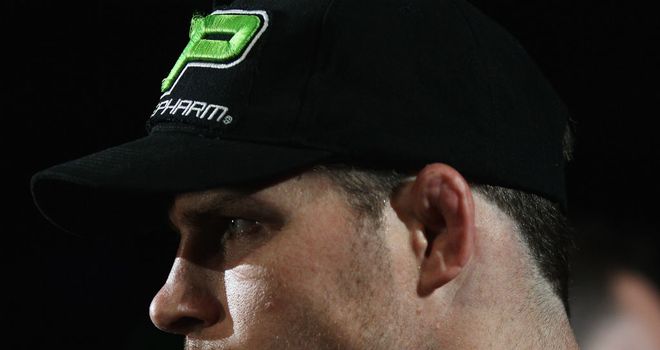 Bispeng: Toughest test of career
Michael Bisping heads into the toughest test of his career to date against Chael Sonnen at UFC on Fox 2 knowing that a win will earn him a title shot against Anderson Silva.
The unfancied British fighter is available at 3/1 with online betting company Sky Bet to beat the cocky grappler with his opponent the overwhelming favourite at 1/4, but Bisping is unconcerned with the bookmakers' lack of confidence in his ability.
He said: "This isn't the first time I have been an underdog, and it wouldn't be the first time I have proven the oddsmakers wrong.
Sky Bet Odds
Mike Misping to beat Chael Sonnen - 3/1. Bet now
"It isn't about who is favourite to win, it is about who fights best on the night that matters."
He added on UFC.com: "I'm going to get the best Chael Sonnen possible I know that. But his jiu-jitsu won't be too slick. Chael Sonnen can take me down if he likes, because I know I can submit him off my back. I know I can.
"That's his big weakness. I may not have a black belt, but I consider myself a black belt. I've been rolling with Jake Shields, Dean Lister and a wash of other world champions.
"Believe me, if Chael Sonnen takes me down, he better be prepared to get submitted. Working with these guys recently, these top level jiu-jitsu guys, has really brought on my game and I am so comfortable on my back right now."
Whether the Manchester man will attempt to snare Sonnen with his new-found jiu-jitsu skills remains to be seen, but Sky Bet are unconvinced - pricing a Bisping submission at 7/2.
Bisping hinted at his opponents superior wrestling skills and many observers believe that Sonnen will be able to smother the Manchester fighter and earn a decision victory.
Indeed, Sonnen was able to negate the fantastic stand-up talents of reigning Middleweight champion Silva, who is arguably the best pound-for-pound fighter in the UFC - only to suffer a cruel submission defeat in the final round.
Sonnen is 8/11 to win by decision and earn a re-match against Silva, while he is 7/1 to win by submission.
Although Bisping is yet to be tapped out in his UFC career, Sonnen has already demonstrated his submission skills, securing an impressive win over promising striker Brian Stann in his last outing at UFC 136.
Both men are known for their resilience and that is reflected in the odds of 1/2 for the bout to go the distance and 7/2 to be awarded 'Fight of the Night' honours by UFC President Dana White.
While it may not produce the most aesthetically pleasing contest, all bets are off that these two fighters will produce an intriguing battle that could overshadow the main event between headliners Rashad Evans and Phil Davis.
Sky Bet do not have any odds available for either man to be hospitalised after this bout, but be prepared for a hard-fought war of attrition which could define the career of both fighters.