MLB: Back-to-back Sydney victories for Los Angeles Dodgers
Last Updated: 23/03/14 10:33am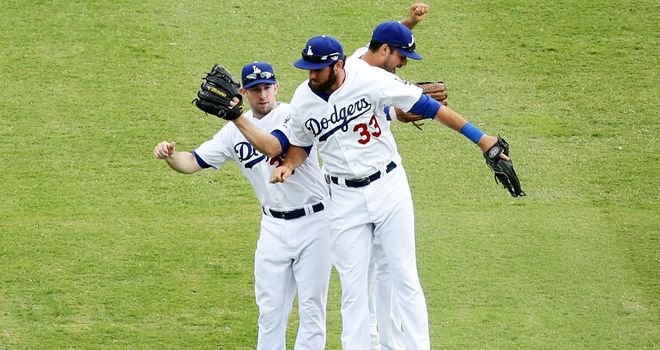 LA Dodgers celebrate in Sydney
The Los Angeles Dodgers held off a late rally from Arizona to claim back-to-back victories in Australia.
The California franchise triumphed 7-5 at Sydney Cricket Ground on Sunday, just 24 hours after winning 3-1 at the same stadium on the opening weekend of the MLB season.
The Dodgers had led 7-0 through seven innings before the Diamondbacks responded with five runs in the last two that included a blockbuster two-run homer from Mark Trumbo in the ninth.
Despite the win, Dodgers manager Don Mattingly was not overjoyed: "The first game I really enjoyed, this one not quite as much.
"It was kind of a frustrating one, we walked seven guys in the last four innings, we gave them a chance to get back into the game.
"We talked about this last year a lot. You don't play like this and win, you may win and get to the play-offs but you don't 'win' like this. This ends up getting us in trouble."
A crowd of 38,079 watched the encounter and Arizona manager Kirk Gibson added: "This event was outstanding, really cool, the spectators were great.
"There were a lot of Diamondback fans here. It's just too bad we couldn't win a game for them."