Commonwealth Games: Welsh gymnast Francesca Jones brings medal tally to six.
Last Updated: 26/07/14 2:34pm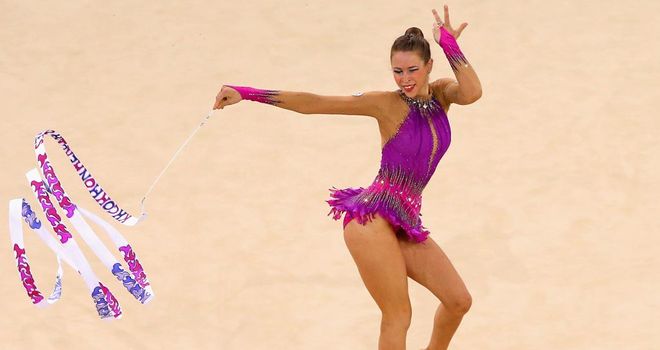 Francesca Jones of Wales en route to gold during the Ribbon final in Glasgow
Francesca Jones has finally struck gold at the Commonwealth Games, ending a run of five straight silvers in the rhythmic gymnastics events in Scotland.
The 23-year-old from Wales had finished second five times to teenage Canadian Patricia Bezzoubenko who was unable to prevent Jones from winning the Individual Ribbon final on Saturday – the sixth and last apparatus competition.
The win for Jones also provided her country with their first gold medal of the 20th Commonwealth Games.
Earlier in the day she had collected silvers in the finals of the Individual Ball, Individual Hoop and Individual Clubs events, which followed on from her two runner-up finishes earlier in the week.
On Thursday, Wales were second behind Canada in the Team event while – 24 hours later – Jones took silver in the Overall Individual competition. Jones also took home a silver from Delhi in 2010.
A delighted Jones, who now retires from competitive gymnastics, said: "I thought 'I'm going to go on and dance my heart out as it's the last routine in my life'.
"It's been a long time, I just wanted to enjoy that moment, and then to have that result. I'm so happy.
"I'm so proud and glad and happy I could do it for Team Wales. It's phenomenal, I can't even believe it. Just seeing the Wales flag up there blew my mind.
"I'm seriously struggling to find words. The hours in the gym and the pure determination we've had the whole two years to get here."
As for the future: "I just hope I can carry on with coaching and keep involved with the sport because it's the thing closest to my heart."
And Wales added a bronze through Laura Halford in the Individual Ball event to help steer the focus away from the country's difficult start to the Glasgow extravaganza.
Two of their athletes, Rhys Williams and Gareth Warburton, had suffered expulsions over alleged drug violations.
As for 17-year-old Bezzoubenko, she was born in Vancouver but now trains regularly with Russia's gymnastics team in Moscow and also holds Russian citizenship.
In the one event she did not emerge victorious – the Ribbon final – Bezzoubenko secured bronze.
Saturday Results
Hoop final:
1 Patricia Bezzoubenko (Can) 14.800
2 Francesca Jones (Wal) 14.750
3 Wong Poh San (Mas) 14.650
Ball final:
1 Patricia Bezzoubenko (Can) 15.250
2 Francesca Jones (Wal) 14.875
3 Laura Halford (Wal) 14.550
Clubs final:
1 Patricia Bezzoubenko (Can) 15.350
2 Francesca Jones (Wal) 14.800
3 Themida Christodoulidou (Cyp) 14.300
Ribbon final:
1 Francesca Jones (Wal) 14.500
2 Wong Poh San (Mas) 14.250
3 Patricia Bezzoubenko (Can) 13.800