Rimla Akhtar says that action must be taken following the Women in Sport report to encourage diversity and inclusion
By Emma Webb. Last Updated: 25/07/14 1:44pm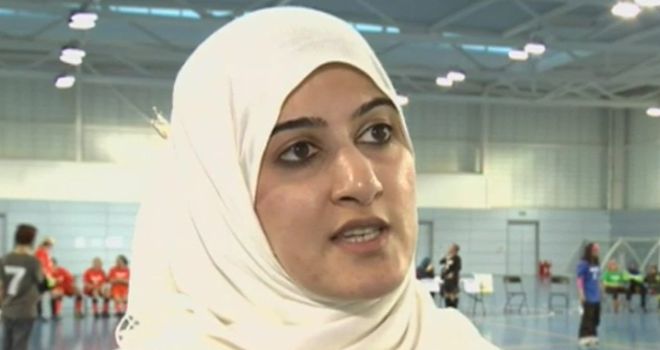 Rimla Akhtar says the needs of Muslim women are not so different to the needs of other women when encouraging physical activity.
Rimla Akhtar says that the recent Women and Sport report, commissioned from the Culture, Media and Sport Committee, is only a basic level of research into women's sport participation issues.
The Chair of the Muslim Women's Sport Foundation told Sky Sports News that the report highlights that a holistic approach is now needed, and that diversity and inclusion should be made a priority in action going forward.
She said: "This report is really important as it has highlighted some of the key areas in its conclusions but I think something more in-depth is really needed now.
"This was the first level of work and it was certainly needed but we need to look at a higher-level strategy that looks at diversity and inclusion at the heart of it all.
"We need to see support of governing bodies that are truly committed, and that show that commitment to women's sport.
"But we need to work with the governing bodies to make sure they are changing that attitude from within and creating a positive environment around women's sport, and it shouldn't just be seen as a tick-box exercise.
"The time to act is now."
Whilst much of her work focusses on encouraging Muslim women into physical activity, Akhtar stresses that many women have concerns about participation in sport that are nothing to do with culture or religion.
"I think the main thing to realise is that Muslim women are not that different to women in general," she said.
"What we found is that female-only facilities are really hard to come across, but it's not just Muslim women that want that.
"We've seen that over 80% of Muslim women that we're in touch with are actually quite worried about their inactivity at the moment, and they want the opportunities to be more active."
The concern that facilities are insufficient or inappropriate for women has been a common theme in the response to the report.
Claire Wheeler, co-ordinator of the Us Girls programme, says that some sports clubs and leisure centres can be daunting and unwelcoming places for women who are new to sport and exercise, and actually discourage women from participating.
She said: "I think we need to do a bit more with facilities to make them more welcoming and friendlier, with a bit more information about how to access those facilities.
"We've really found that small adjustments can really make sport accessible for everybody including all women and girls from all backgrounds."