Commonwealth Games: Fit-again Usain Bolt planning to put on a show in Glasgow
Last Updated: 23/07/14 11:16am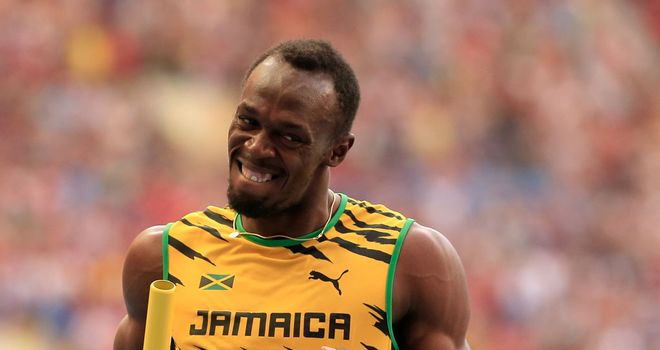 Usain Bolt: The Jamaican superstar will run the 4x100 at the Commonwealth Games after recovering from surgery.
Usain Bolt is ready to put on a show at the Commonwealth Games in Glasgow after recovering from minor foot surgery and a hamstring injury.
The Jamaican sprinting star plans to run in the 4x100 relay but confirmed he will skip the 100m as he does not want to take anyone's spot in the 100m having missed the trials.
"I really wanted to run at the Commonwealth Games over the years," he said.
"I'm going there for my fans and I'm going there to show that I'm getting back into shape and they can look for great things now and for the years to come.
"Although I got injured I see where I can run the 4x100. I see where I'm getting back into shape to actually compete in the 4x100."     
Bolt is training twice a day in order to get back into competitive shape after he missed nine weeks of training following surgery on his left foot in March.
His coach Glen Mills said that twice a day workouts were necessary to get Bolt back in sub 10-second sprinting shape because he missed a lot of foundation work.
"We usually train in the morning when it is necessary, but it's not the routine," Mills revealed.
Double up
"Usain has lost quite a significant amount of training time and in his desire to at least run a couple races in the summer, in order to get in the sufficient amount of sessions, we have to double up training morning and evening."
The six-time Olympic gold medallist decided the surgery was necessary after extensive consultations with his doctor and is happy with how his recovery has gone.
"I went to see my doctor and he said the best thing to do was to actually get the surgery done because it would bother me over my career," Bolt said.
"It was best to get it done now, so I just did it because I considered this my off season.
"It definitely one of those things so I got it out of the way and right now I'm just trying to get back and that's the key right now and that's the focus.
"It's been rough, but I've been through it a couple times so I know what it takes to get back so I'm just pushing on and working towards what's necessary for this season."