Cleveland Indians ruin Masahiro Tanaka's hopes of a landmark triumph
Last Updated: 09/07/14 8:48am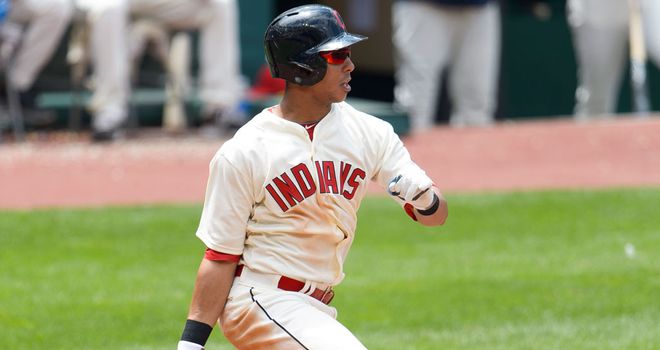 Michael Brantley: Hit a home run in the seventh inning
Michael Brantley homered and had three RBIs as the Cleveland Indians claimed a 5-3 victory over the New York Yankees.
Masahiro Tanaka's bid to become the major league's first 13-game winner was ruined by Brantley, who hit a leadoff homer in the seventh and also had RBI doubles in the first and fifth.
Nick Swisher also hit a go-ahead two-run shot for the Indians during a dismal day for Tanaka (12-4), who allowed season worsts of five runs and 10 hits in six 2-3 innings.
The right-hander, who lost for the third time in four starts, took a 3-2 lead into the sixth before Swisher, a former Yankee, hit a two-run homer that put Cleveland on top.
Trevor Bauer (3-4) allowed three runs in seven innings and retired 13 of the last 14 hitters he faced.
In Detroit, Rajai Davis had three hits and three RBIs as the Tigers fought back from an early five-run deficit during a 14-5 thrashing of Los Angeles Dodgers.
Miguel Cabrera and Torii Hunter each had three hits, two runs scored and two RBIs for the American League Central Division-leading Tigers (49-37).