A David Ortiz home run helps Boston Red Sox to an 8-5 win over New York Yankees
Last Updated: 30/06/14 7:40am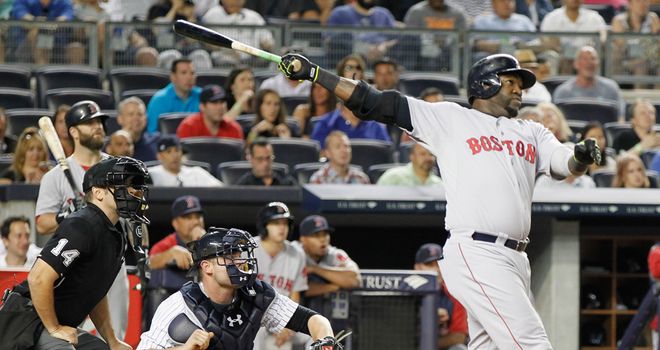 David Ortiz: Hit the 450th homer of his career
David Ortiz hit his 450th homer as Boston Red Sox claimed an 8-5 victory over the New York Yankees.
Dustin Pedroia continued his fine form for the Red Sox, picking up three RBIs during his second consecutive three-hit game, and Boston took two of three in the series to finish a 4-6 road trip.
Ortiz smashed a colossal three-run drive in the third inning, punishing a pitch from New York right-hander Chase Whitley (3-2).
John Lackey (9-5) played his part for Boston, labouring through five innings before four Red Sox relievers pitched shutout ball the rest of the way.
Mark Teixeira and Carlos Beltran homered for the Yankees, who have now dropped six of eight.
In Chicago, left-hander Jose Quintana pitched seven scoreless innings to help the White Sox to a 4-0 win over Toronto Blue Jays.
The hosts eased to victory after a third-inning RBI by Chicago's designated hitter Jose Abreu and a fourth-inning solo home run from Moises Sierra.
Blue Jays pitcher Mark Buehrle (10-5) went eight innings, allowing two earned runs on six hits while striking out five and walking two.