Stay with SSN
Catch Sky Sports News in all sorts of ways...
Last Updated: 04/11/10 3:31pm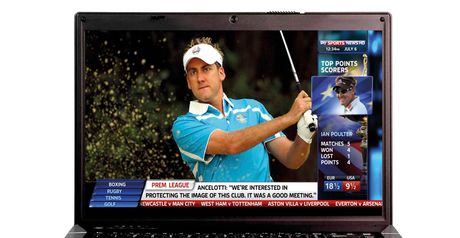 Sky Sports News has left Freeview, but there are still lots of ways to stay up to date with the UK's first dedicated sports news TV channel.
Sky Sports News became a subscription channel on Monday August 23, but you can still enjoy the latest breaking sports news in the following ways:
TV
Sky Sports News will now be exclusively available to more than 13million Sky, Virgin Media and Talk Talk TV homes.
Sky TV customers with any Sports Pack or the News & Events Pack will be unaffected by the switch, while all other Sky TV customers will receive Sky Sports News as a six-month bonus channel until February 23 2011.
Sky Sports News HD has launched on Sky Channel 455, and HD viewers will be able to make the most of the new widescreen format, on-screen graphics and video panels.
Phone, web and PC
Sky Sports News will be streamed live on PC, Mac, Xbox, Fetch TV and 3G mobile phones through Sky Player & Sky Mobile TV (all available at no extra charge to Sky Sports subscribers).
skysports.com will bring you the best of the channel with a new-look Sky Sports News section, complete with news, video, presenter profiles and the weekly SSN Plus podcast.
iPad and iPhone
To provide customers with even more value, from August 23 the channel will also launch a dedicated iPad application which will offer continually updating breaking news, views and opinion from the world of sport. The iPad app will also offer streaming access to Sky Sports News Radio.
Sky Sports News apps for the iPhone and iPad are available to download free from iTunes now.
Radio
Sky Sports News Radio is a brand new service which will offer rolling sports news coverage and is available through skysports.com and through the iPad application.
Even better than before
Sky Sports News has always been sports fans' number one choice for breaking news and you'll want to stay with the channel because it just got even better...
Brand new look - a fresher feel and a new widescreen format
Faster reaction to breaking news - with more reporters and production trucks on the road
More live reports - covering an even wider range of major sporting events
Soccer Saturday - Jeff and the boys will now be turning out exclusively for Sky Sports News
New programmes - including Sports Sunday and First, Fast and Now