Norwich on the slide?
Norwich remain out of the relegation zone but the natives are restless in East Anglia. With concern growing as to the direction the club is heading under Chris Hughton, Adam Bate looks at the problems at Carrow Road and fears the panic button might be pressed too late to save the Canaries.
By Adam Bate. Last Updated: 07/03/14 9:07am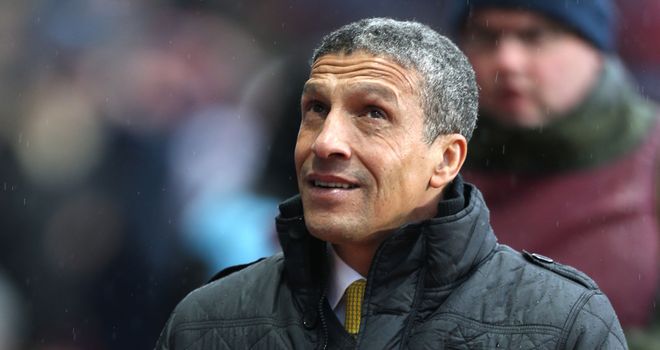 "We want Hughton out," chanted the Norwich fans at Villa Park. In truth, it was a stifled demand. Frustrations were inflamed by the sight of their side conceding four goals in quick succession against an Aston Villa team that has struggled for goals all season. But the timidity of the supporters felt strangely appropriate. Chris Hughton's men have lacked conviction all season.
This was supposed to be the year in which Norwich City cemented their status as a Premier League force. There was the early statement of intent as £8.5million was splurged on Holland international striker Ricky van Wolfswinkel. The subsequent arrival of the talented Leroy Fer and the bargain acquisition of Nathan Redmond from Birmingham City added to the overriding sense of optimism.
The theory was that the new signings would provide Norwich with a platform to play a more expansive game. But the reality has been disappointing as Carrow Road has been subjected to a team devoid of creativity or inspiration. Only Stoke and QPR scored fewer last season and the trend has continued with the Canaries once again among the bottom three for goals scored. You must go back to the first week of December for the last time Norwich scored two goals in a game.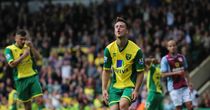 Ricky van Wolfswinkel: Struggling
Looking back, the roots of this goalscoring problem can be found in that summer transfer drive. Although the signings of Van Wolfswinkel and Celtic striker Gary Hooper, a player who had averaged 30 goals per season across the previous two campaigns, left supporters rightly optimistic about the fire power at the club's disposal, it has not proved that simple. Both men are primarily poachers rather than players who are able to link the play or carve out openings for themselves - and creativity from midfield has long been a problem for Hughton's team.
Of course, starved of service those strikers find themselves in the spotlight when the rare opportunities do come along. Netting every other game for Sporting Lisbon or Celtic is a commendable effort but the spurned chances can be forgotten when at the right end of the table. Asked to feed off a solitary half-chance every weekend, the margins for error are slender and the consequences dire. Van Wolfswinkel has not scored since the opening weekend of the season.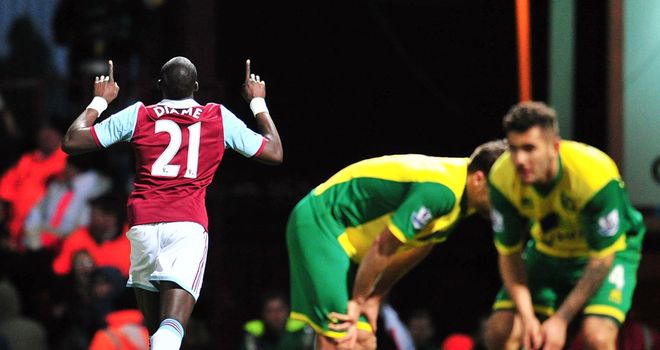 Conceding too many goals and not scoring enough will always be a recipe for disaster
The misses are mounting. Opta define a clear chances as "a situation where a player should reasonably be expected to score, usually in a one-on-one scenario or from very close range" and the statistics collated make for sorry reading in East Anglia. Norwich have only fashioned 24 clear opportunities all season and netted just six of them. Amazingly, with the exception of Crystal Palace, every other Premier League team has scored at least double that number. It's a problem.
Worryingly, Van Wolfswinkel has wasted all five such chances to fall his way, while Hooper's one-on-one with Brad Guzan at Aston Villa last time out was the seventh time out of nine that the English forward has failed to convert a routine chance. As a result, it is no surprise that Norwich have the worst shot conversion rate - a miserable 8.11 per cent - of any Premier League team and have netted the fewest goals from inside the box (just 13, four short of Cardiff and Crystal Palace).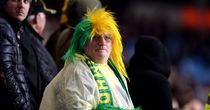 Crestfallen Canaries fan
Evidently, the problem is twofold with both creativity and finishing an issue. If Hughton can be considered culpable in failing to find the right blend among his increasingly isolated strikers, it is in midfield where his turgid team selections could be interpreted as really exacerbating the side's struggles. Caution permeates the team with an emphasis upon being difficult to beat taking precedence over any desire to capture the imagination of home supporters.
Wes Hoolahan has been marginalised, scoring against Villa on his first start since New Year's Day, while there are suggestions Redmond is not fully trusted by a manager who prefers to rely on solid citizens rather than unpredictable talents. The decision to withdraw the winger against West Ham, after he'd created many of the team's best openings and with the chance to push on for the win, left supporters baffled. Meanwhile, the call to bring on Johan Elmander at Villa - which Hughton justified as an attempt to consolidate a 4-1 defeat - was interpreted as further evidence of the paucity of ambition that has dogged his reign.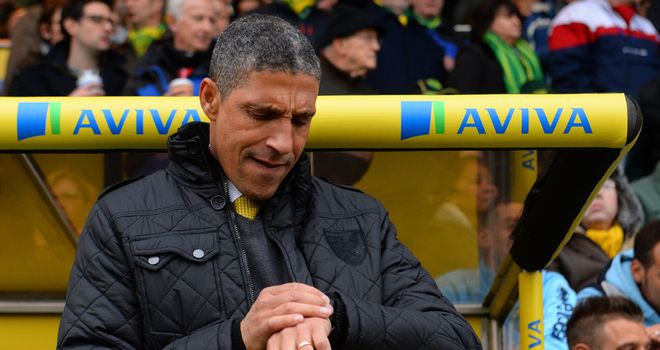 Will time soon be up for Chris Hughton and Norwich City in the Premier League?
Alarmingly, there are signs that the erstwhile reliable Norwich defence is now creaking under the strain. A failure to find the net puts pressure on those at the back and while the midfield has been unable to aid the team in an attacking sense, defensive protection has been an issue too. A soft centre is the last thing they need but with only Swansea winning fewer duels and Cardiff the only top-flight team to have made fewer tackles, there is a need for more proactive work in the middle.
Perhaps this is a case of third-season syndrome on the pitch and in the stands. After the initial excitement of life back in the top division raises performance levels, everyone soon needs a little joy in order to make the journey palatable - a flair player here or a blood and thunder challenge there. Sleepwalking your way back to the Championship simply will not do.
It's enough to cause panic in the board room. "We will not contemplate relegation," said Norwich chief executive David McNally back in January. "In a sporting sense it is worse than death. I would prefer death rather than relegation. There is nothing more important than keeping this football club in the Premier League. We are all focused on that. The brief is to keep out of the bottom three and that is what we are doing."
The problem for Norwich is that this is a Premier League journey with an unpleasant chicane as they approach the finishing straight. The final four fixtures are not inviting - Liverpool at home, Manchester United away, Chelsea away and Arsenal at home. As a result, there is every chance Hughton can fulfil his brief right through to match-day number 34 and still leave Norwich doomed for the drop. As the agitated away fans at Villa Park will attest, they can't say they weren't warned.