Striking options
Last season Premier League watchers were wowed by the magical goal-grabbing prowess of Michu, a rag-tag rebel straight out of Rayo Vallecano. Don't be surprised if La Liga is raided again over the summer with a number of top strikers available at the right price. Here are three of the best
By Tim Stannard. Last Updated: 25/06/13 10:37am
Gonzalo Higuain (Real Madrid)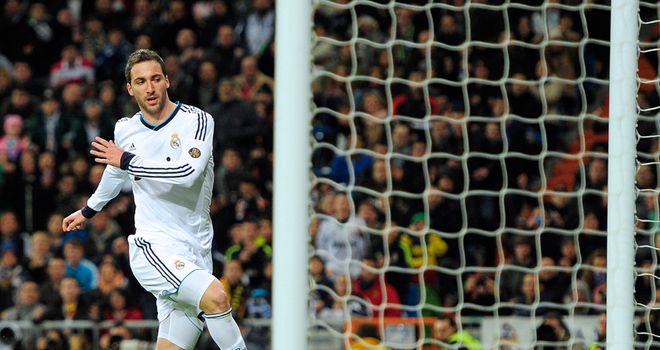 Gonzalo Higuain: High on Arsenal's wish-list and for good reason
Seriously. If Arsenal fail to land Argentina's main man up front, then not only should Arsene Wenger kick himself, but every single supporter should line up to help the Frenchman along the way. But in a legal and appropriately gentle manner of course.
The footballer who joined up at the Santiago Bernabéu way back in 2006 as a mullet-sporting unknown is still not accepted as a top-class striker by some sections of the media in Madrid. At times, the belittling of the forward has been cruel and clearly of a political nature. It is for this reason, perhaps, that Higuain announced at the end of the campaign that he wanted to find new challenges away from Spain.
The Real Madrid supporters still love the player to bits though, and it is easy to see why. Higuaín is a footballer who is enormously dedicated and hardworking - an attribute that Jose Mourinho appreciated - immensely flexible in being able to play in either forward position or across a front three and would be a guarantee of at least 20 goals a season. Yes, the 25-year-old only grabbed 16 in La Primera last season, but the footballer was only handed 19 starts, having been rotated with Karim Benzema.
The one drawback of Higuaín is that the French-born footballer's record in the Champions League is a strangely poor one. The campaign just gone saw a typical performance - just the single strike in nine appearances. It is not even a case of the player being the stereotypical big-match bottler considering Higuaín has scored goals that have delivered league titles and is a regular goal-getter for Argentina, where the pressure is enormous.
For this reason, should the Argentinean ever return to the Bernabeu in the colours of Arsenal, or another suitor in the form of Juventus, then it would be standing ovation time for a player who is desperate for a platform that he truly deserves.
Roberto Soldado (Valencia)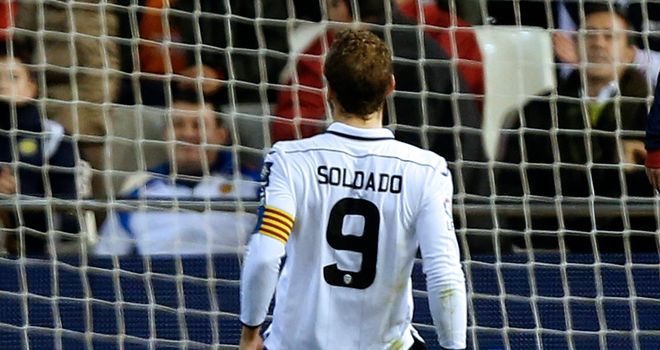 Roberto Soldado: Holds an enviable goal record and would be a good fit for Premier League
I've always carried a few doubts over the true level of Roberto Soldado despite the statistics suggesting that the Spanish international has always been a consistent performer at all his clubs. Over the past five seasons, the Valencia forward has banged in 88 league goals for both his current side and Getafe. Soldado also proved his worth in the Champions League too, managing four in seven starts for the Mestalla club last season.
The 24 league goals he scored last season saw Soldado getting a call-up to the Spain squad for the Confederations Cup after flitting in and out of the Spanish side, with the suggestion that Vicente Del Bosque did not quite fancy the footballing prowess of the player. For a while, it was easy to see why. You got the feeling that whilst the 28-year-old was all fine and dandy knocking in hat-tricks against Hercules, there seemed to be a killer instinct lacking in top-level games. That feeling is falling away now as the former Real Madrid man grows into the role of a skilled, old-fashioned number nine target man.
A lack of Champions League football has opened the path to a possible transfer away from Valencia this summer, both for the club to make up the missing funds and for Soldado to keep up his challenge to lead the line for Spain. He finally looks ready for the next stage in his career.
Alvaro Negredo (Sevilla)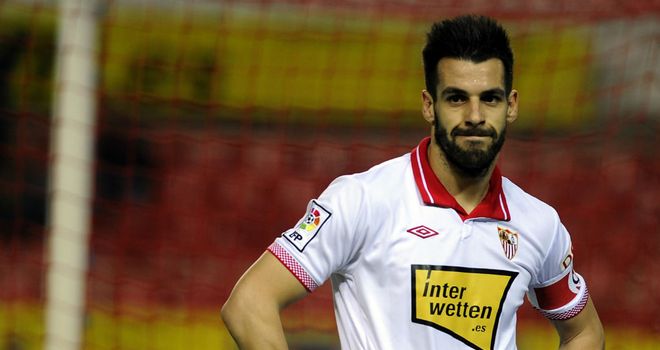 Alvaro Negredo: May fancy a change of scene given Sevilla's slump in form of late
For several seasons now the bustling, combative and more than a little moody Sevilla striker has been linked with moves away from Spain's south coast. With Negredo's club continuing to go nowhere slowly in La Liga and him losing his spot in the Spain side to Soldado, Negredo may feel that it is time for a change of scene.
Another former Real Madrid product, Negredo finished the season as Spain's top scorer in La Primera with 25 goals, and is a more rounded player than his rival at Valencia. The 27-year-old is tall, athletic, strong and capable of being a target man as well as spectacular belts from outside the box. On the downside though, Sevilla's recent awful form sees Negredo out of the Champions League and perhaps a little rusty when it comes to beating the best.
The Madrid-born forward can be a little bit touchy and is a tad mardy. Nevertheless, Sevilla are willing to sell for the right price and the striker will almost certainly be desperate to move. Negredo would be a costly player and thus a bit of a gamble. But if the bet paid off, the winnings would be handsome.
This article first appeared on Football365