20 questions: Luke Rowe
Get to know Team Sky's popular Welshman
Last Updated: 19/01/14 11:02am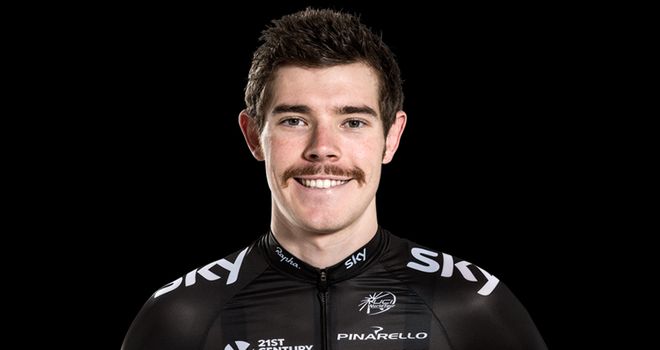 Rowe showed no fear over a 20 questions grilling
Ahead of his Tour Down Under appearance Luke Rowe takes on an even tougher challenge - Team Sky's 20 questions.
What is your favourite fruit?
Strawberries, I love them because they taste great.
What is your favourite gadget?
My iPhone, I don't go anywhere without it.
What was the last film you saw?
The Hunger Games 2. I wasn't really into it if I'm honest and only went because I got dragged along to it by my girlfriend. The first one was better.
Do you have any unusual quirks or phobias?
I don't know why but I always try and get on a plane last.
What was your worst school subject?
Science, purely because a lot of it went straight over my head and I was really, really bad at it.
What is your favourite TV programme?
The Walking Dead is right up there at the moment.
What talent other than cycling do you have?
I was the Welsh under-12 clog dancing champion (smiles).
What is the furthest you've ever travelled in a car?
I went from Cardiff to Scotland once when I was a kid. That seemed to take forever at the time.
If you could join a music group, which one would it be?
That doesn't interest me at all, I wouldn't want to join one.
If you could invent one thing, what would it be?
Something that could prove 100% if someone was doping in cycling.
If you were a super hero, what powers would you have?
I'd like to fly, that would be really cool.
Who is your favourite football team?
Cardiff City.
If you had to be tied to a team-mate for 24 hours who would you pick?
Probably Pete Kennaugh, we'd have a laugh.
Do you collect anything?
I have a massive coin jar next to my bed and it must have a few hundred pounds in it. I'll cash it in one day but I don't know how as it's so big.
Have you ever fired a gun?
Yes. I've been clay pigeon shooting with G and a few of the other guys before, and also shot an air rifle.
Can you play a musical instrument?
I used to play the drums but I just bashed them, nothing too technical.
Do you have any pets?
No. Just my girlfriend Cath (laughs).
Would you rather be really, really big or really, really small?
Big, because then you'd be able to see over things, of course!
Have you ever sailed a boat?
Do rubber dinghy's count? I bought one of those on holiday once and sailed it to a buoy and back.
If you had more time to devote to one thing, what would it be?
Ice hockey.
What's been your greatest ever day?
I've had some good days in my life but not one that sticks out over any others.
Keep an eye out every Friday for a new instalment of 20 Questions with a different Team Sky rider.