On your marks...
'Biffle can win, but Earnhardt Jr triumph would be good for business'
Last Updated: 14/09/12 2:36pm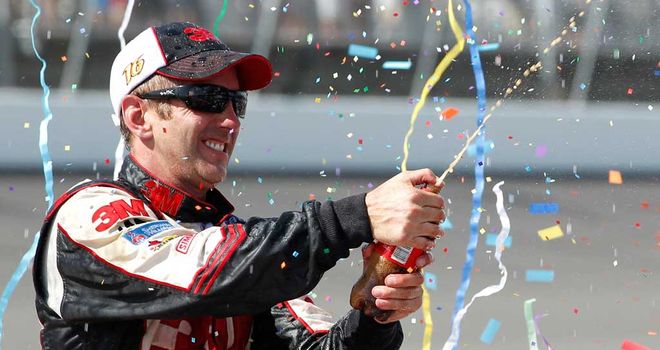 Don't forget Greg: Biffle is capable of pipping Johnson, Hamlin and co to the Nascar Sprint Cup title
It's that time of the year again when NASCAR's heroes battle it out to be the Sprint Cup champion - with the first race of the 12-round chase at Chicagoland in the Mid-West this Sunday.
Last year, Carl Edwards and Tony Stewart were on virtually the same points going into the last race at Homestead, and Stewart won out. But NASCAR also won, too.
It had its fans holding a deep breath until the last chequered flag, increased TV interest, and finally a chase to be proud of (the last few have been one at a canter by Jimmie Johnson).
This year, Edwards won't be in the Chase after a mediocre 2012 (Stewart will, though), but Jeff Gordon will, after an incredible race at Richmond that saw him scamper into the final 12th position by just one point.
Johnson will also be there and so will clubhouse leader Denny Hamlin, who tops the standings thanks to his four victories over the course of the season. And watch out for one Dale Earnhardt Jr, who's been 'Mr Consistent' this season. A win for him would be gargantuan for his mega-sized fanbase, as well as the sport itself.
Alex Ferguson looks at the key questions ahead of the first race of the season...
1. Who are the drivers involved?
The 12 drivers who can win the title are (in order of points leadership going into the Chase) Denny Hamlin, five-time champ Jimmie Johnson, 2012 Champion Stewart, young upstart Brad Keselowski, Greg Biffle, Clint Bowyer, Dale Earnhardt Jr, Matt Kenseth, Kevin Harvick, Kasey Kahne, Martin Truex Jr and Jeff Gordon.
2. Who's the favourite?
Every year we try and tell you that Jimmie Johnson's not the favourite, and every year we've been wrong (apart from last year), because the No.48 car has just ripped apart the competition. This year, however, Johnson's the big favourite, although you can't look past Hamlin, Stewart, or any of the drivers. And for crying out loud, don't ignore regular season leader Greg Biffle, who's been the model of consistency all season long.
3. What's the race schedule like?
We're generally unsentimental about 1 ½ mile tracks, quite simply because they are the bread-and-butter to drivers and don't seem as testing - or exciting as the ½ mile, 2 mile or road course races. This year we're still quite high on those kind of tracks (Chicagoland, Charlotte, Kansas, Texas and Homestead), but we've also got the super-speedy bedlam of Talladega, as well as three one-mile courses (Loudon, Phoenix, Dover), and a half-miler (Martinsville). Our only complaint is the lack of road races out there, meaning that Watkins Glen and Sonoma won't cause the havoc that they have in races past. In fact, we would have loved NASCAR to take out one of the 1 ½ mile course (rudely described by NASCAR fans as 'cookie-cutters') and put in a road one. That would have added some spice.
4. What are the races to watch out for?
We love the short track races, so any of the one-mile courses are going to see a lot of carnage, particularly as things hot up. We expect Phoenix to cause problems for drivers, and it's usually an exciting race on the tri-oval. For pure speed and crowd enthusiasm - and they say that the party starts on the Wednesday before a race - then make sure you watch Talladega. And when Dale Earnhardt Jr hits the front, the roar is something to behold. Also - and this is our love for half-mile tracks - Martinsville's going to madden drivers, as 'The Paper Clip' always does.
5. Any driver conflicts out there?
Plenty, actually. Tony Stewart's in nasty mood - even after getting into the Chase - after he was turned around by Matt Kenseth while battling it out for the lead (he threw a helmet at him during the race and promised vengeance in upcoming races, which we hope will happen), while anything can happen with Kyle Busch having little to fight for apart from 13th place, meaning that he can bump and bruise his way to the top without fear of anything. Kevin Harvick's capable of anything, as is Keselowski, and when they want to - Hendrick Motorsports team-mates Gordon and Johnson. Clint Bowyer also stung Gordon earlier in the season at Martinsville, so it'll be interesting about how this plays out.
6. What good would a Dale Earnhardt Jr win do for NASCAR?
He's not the most successful by any stretch of the imagination, but his consistency this season (one win, 10 Top 5s, 17 Top 10s) has been a joy to behold of his frustrated fanbase, and the fact that he finished second in the regular season on points makes a lot of people hopeful that he'll win it all this year. But Dale Earnhardt Jr's the biggest name in NASCAR by a mile, and like Michael Jordan in the NBA, a sport always needs the big names doing well. After all, increased media interest, sponsorship and an increased global footprint can't hurt, can it?