Neal prepared for Plato charge
Championship leader expecting a challenge as series resumes
Last Updated: 10/08/12 1:58pm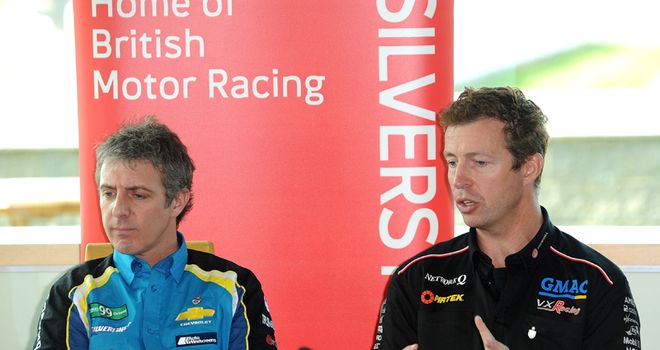 Plato (l) is a dangerman, says Neal (r)
Matt Neal is expecting a Jason Plato onslaught in the second half of the British Touring Car Championship.
Following a seven-week break, the racing finally gets back on track again this weekend with a triple header at Snetterton.
At the halfway stage of the 10-event campaign, reigning champion Neal holds a slender one-point lead over Honda team-mate Gordon Shedden.
As for 2010 title-winner Plato, the 44-year-old is 29 points down in his MG6, but with Neal expecting him to come on strong.
With Plato winning the last of the three races at Croft towards the end of June to put himself back in contention, Neal said: "Jason will come out all guns blazing, I'm sure of it.
"The gap back to Andrew Jordan and Robert Collard in fourth equal is about the same again.
Clash
"But Jason will no way be looking over his shoulder at them. He will just be looking ahead at Gordon and I and thinking 'they are the two guys I've got to beat'."
Although another Honda Civic driver in Jordan and Collard in his BMW 320si are only 50 points back, Neal believes the title clash is now a three-horse race.
Speaking on the championship's official website, Neal added: "In all honesty, I think it's probably between us three now, even at this early stage in the season.
"Andrew is young and very determined, but he's going to need all three of us to have a couple of nightmares, which is a big ask.
"Jason has been in this situation before and managed to make up the ground, and he'll want that to happen again."