Rally of Australia: Brit Kris Meeke crashes out as Sebastien Ogier leads
Last Updated: September 15, 2013 7:26am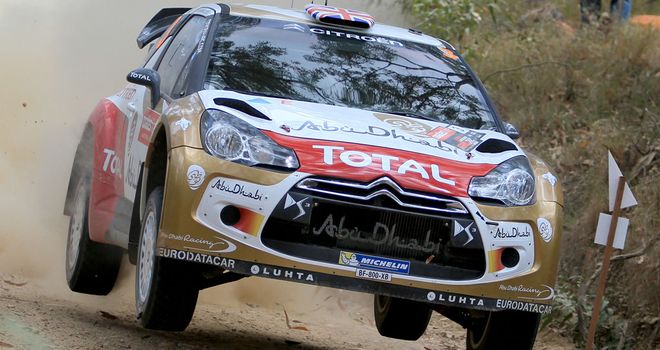 Kris Meeke in Australia - before his rally came to an abrupt end
British driver Kris Meeke has crashed out of the Rally of Australia, rolling his Citroen DS3 on the 13th stage.
The 34-year-old from Northern Ireland had been in a highly respectable fourth place when his event came to an abrupt end on Saturday.
Meeke's challenge ended 20 kilometres into the stage after his car slid off the road and down a hillside - the French vehicle rolling over seven times.
Neither Meeke nor his co-driver Chris Patterson were hurt in the accident but the Britons will be disappointed at missing out on much sought-after World Rally Championship points.
Meeke told WRC.com: "I went into a second gear corner and I arrived five or 10 kilometres too fast.
"I thought I'd got away with it but the car just slipped off the road.
"It nearly stopped but unfortunately there was a very steep bank down into a field and it just kept tumbling. A very slow accident."
Meeke has competed in 39 World Championship events during his career and has a highest finish of fourth at the Rally of Great Britian in 2011.
At the end of day two Down Under, current World Championship leader Sebastien Ogier continues to dominate proceedings.
The Frenchman's Volkswagen has posted the fastest time in 14 of the 16 stages held to date and he leads Finland's Mikko Hirvonen - in a Citroen - by more than 40 seconds.
There are six more stages to come on Sunday, with Ogier in with a chance of clinching the world title this weekend.