Bristol win for Hamlin
Johnson takes second spot to clinch a berth in the Chase
Last Updated: 26/08/12 8:26am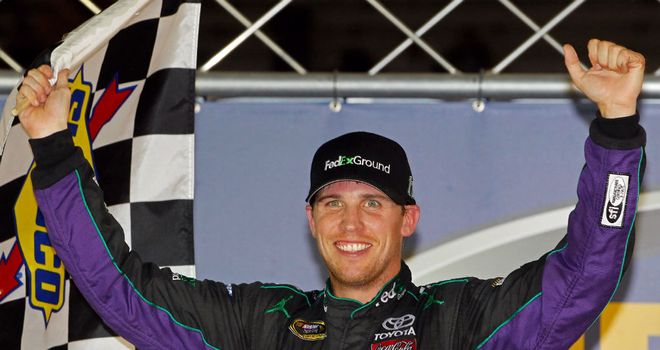 Denny Hamlin: tied at the top alongside Jimmie Johnson, Tony Stewart and Brad Keselowski.
Denny Hamlin put himself in a four-way tie for the lead in NASCAR's championship race with victory at Bristol Motor Speedway on Saturday.
Hamlin ducked through to take the lead from Carl Edwards with 39 laps remaining and then stayed clear to cross the line first, giving him his third triumph of the season.
In the end Edwards finished 22nd, with Jimmie Johnson taking second place to clinch a berth in the Chase, as did Greg Biffle and Dale Earnhardt Jr.
"My biggest win, this is such a great feeling," Hamlin said afterwards. "It just hauled the mail. This is just a big win, I don't know how else to explain it."
Hamlin and Johnson are tied at the top alongside reigning champion Tony Stewart and Brad Keselowski.
Jeff Gordon was third behind his Hendrick Motorsports Chevrolet team-mate , followed by Brian Vickers and Marcos Ambrose.
Kyle Busch took sixth place ahead of Clint Bowyer and Joey Lugano, winner of the Nationwide Series race on Friday night. Kasey Kahne was ninth with Paul Menard then rounding out the top 10 places.