Marc Marquez upset by disqualification at Phillip Island
Last Updated: 21/10/13 6:59am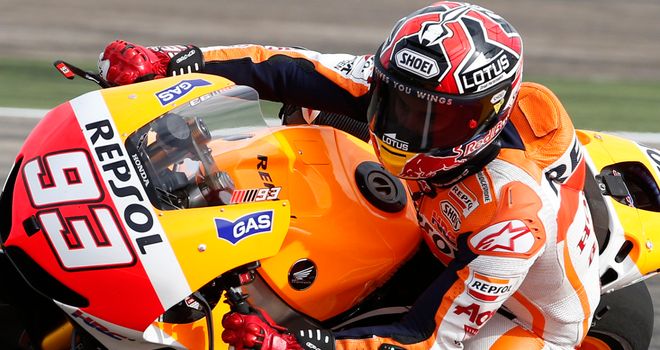 Marc Marquez: Feels Australian disqualification was too harsh
Marc Marquez admitted the whole Honda team had taken the blame for his disqualification at the Australian Grand Prix but he feels the penalty was too harsh.
The rookie, bidding to become world champion at Phillip Island, was black-flagged with five laps to go after failing to pit during a mandatory two-lap window.
Because of problems with tyres, race organisers had ordered riders to swap bikes before the end of lap 10, but Marquez stayed out an extra lap to move into the lead while others pitted.
Marquez then made contact with eventual winner Jorge Lorenzo as he re-joined the track before settling into second place, where he seemed likely to finish.
"It was our first experience of a flag-to-flag race, and suffice to say it wasn't a good one," Marquez said.
"My team and I had set out a strategy and we thought that we could come in after lap 10, but in reality this counts as an extra lap.
"We hadn't had that in mind and this was a huge mistake. We had everything well planned and I followed the instructions on my pit board.
"The penalty, it's very, very tough. It was possible to make some other penalty, some seconds (off) or drive-through or something else - not the black flag.
"I'm disappointed. We had big confusion with the planning because we thought that it was possible to go (into the pits) in that lap.
"I just followed what they showed to me on the pit wall. In the end, it's the whole team. We cannot say one person (is responsible).
"Anyway, we learn about that. Now, we will forget that and work for Japan (next week)."