Malaysian MotoGP: Dani Pedrosa wins at Sepang but Marc Marquez extends MotoGP lead
Last Updated: 13/10/13 12:30pm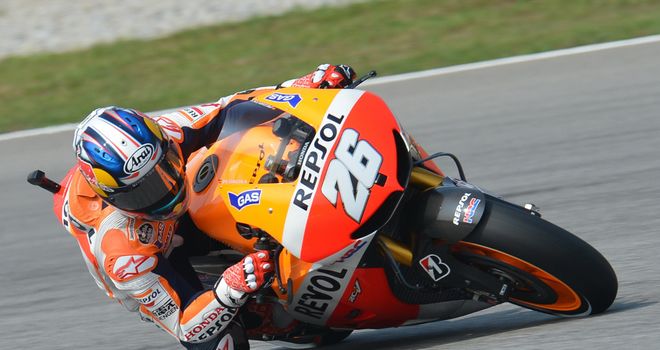 Dani Pedrosa wins in Malaysia again
Dani Pedrosa claimed the Malaysian Grand Prix for the second consecutive year but his fellow Spaniard Marc Marquez came second to extend his MotoGP lead.
Marquez started on pole position but saw Pedrosa come flying past him at the start of the race, although Jorge Lorenzo then moved into the lead.
Pedrosa hit back though by overtaking world champion Lorenzo on the fifth lap to get back into first place on his way to finishing 2.757 seconds in front of the field.
It was a third victory of the season for Pedrosa as he successfully defended his Malaysian GP title..
In a fierce battle for second place, Motot GP leader Marquez eventually came out on top against world champion Lorenzo, passing the Yamaha rider with 11 laps remaining.
He stayed in front to grab second at the Sepang International Circuit to pick up the vital 20 points awarded for second place, leaving Lorenzo in third.
Rookie Marquez moves on to 298 points and leads the standings by 43 points ahead of Lorenzo in second on 255 and Pedrosa in third on 244.
There are now just three rounds to go in the championship and a maximum of 75 points to race for.
Good day
Pedrosa said: "Today was a good day, the bike was working well. Tires were slippery towards the end but I was riding well. I was comfortable all weekend.
"I tried to go in front to put in a gap but the tires were slipping a lot. I wanted to make the best lap time but it was very hot out there, no fresh air to cool the body and I knew it was going to be a hard race from the start."
For Marquez, extending his championship lead was the top objective. "My start was not so good but I enjoyed the battle with Jorge. My target was to finish in front of Jorge and I am happy we achieved this," said the 20-year-old, who has won six races this season.