British Superbike Championship: Alex Lowes has day on contrasting fortunes at Assen
Last Updated: 22/09/13 10:31pm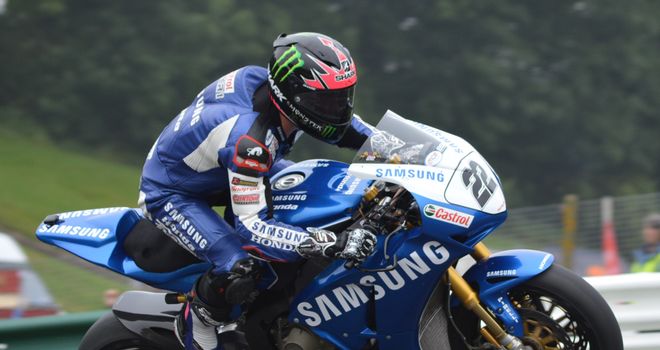 Action-packed day at Assen for Lowes
It was day of highs and lows for Samsung Honda rider Alex Lowes after he won a thrilling first race at Assen before being excluded from the second race following an incident with Shane 'Shakey' Byrne.
Lowes took an early opening lap lead in race one before being overtaken by James Ellison on the Milwaukee Yamaha.
But the fans would not be denied the showdown they were hoping for as Lowes and defending champion Byrne exchanged second and third position on several occasions in the frist seven laps.
The championship leading duo were hot on the heels of Ellison and all three riders exchanged position before an engine problem forced Ellison to retire on lap 12.
Lowes battled Byrne all the way to the line from that point on and he stormed in front on the penultimate lap.
The pair exchanged the lead six times on the final lap but Lowes held on to notch his fifth straight win to close Byrne's championship lead to a single point.
Ellison's team-mate Tommy Bridewell clinched the final podium place with Josh Brookes finishing ahead of Noriyuki Haga and Jakub Smrz, who claimed Padgetts Honda first top six finish of the season.
Byrne got off to a flying start in the second race storming clear of rival Lowes. Haga, Byrne's Rapid Solicitors Kawasaki team-mate, did the Ulsterman a favour by keeping Lowes occupied on the opening lap but Lowes eventually shook off the Japanese rider before closing in on Byrne.
Lowes hit the front on the third lap and a lap later Ellison moved up to fourth before Bridewell and Haga collided taking them both out of the race.
There was controversy moments later when Lowes made contact with Byrne causing the Ulsterman to crash at high speed and forcing the Safety Car to come out.
Ellison led the race after the Safety Car but there was another casualty when Josh Brookes slid off the track. Lowes caught Ellison to retake the lead on lap 15 and the pair finished the race in that order.
PJ Jacobsen thought he had claimed his highest ever finish in third in his rookie season but was bumped up to second following Lowes' exclusion after his coming together with Byrne.
As a result, Ryuichi Kiyonari was awarded third place ahead of Jon Kirkham and James Westmoreland.