CoTA to host MotoGP
New Texas venue added to 2013 calendar
Last Updated: 03/10/12 6:56pm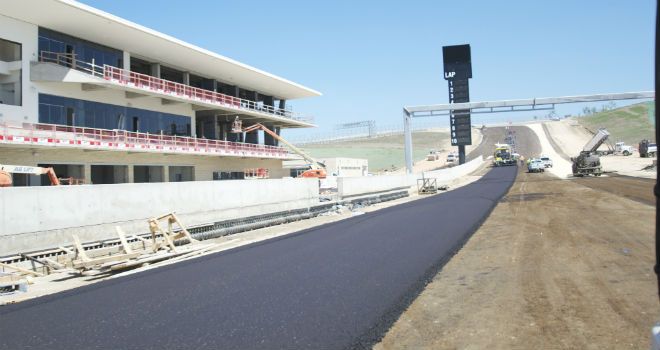 The new Circuit of the Americas will host MotoGP in 2013
MotoGP will visit the Circuit of the Americas in April next year, adding a new North American venue to an ever expansive calendar.
The new 3.4-mile circuit in Texas is having the finishing touches applied before it makes its Formula 1 debut in November, and will become the first American venue to host both two and four-wheeled world championships in the same season.
Luring MotoGP to the track following a prolonged process is a major coup for the circuit bosses who have invested heavily in creating the first purpose built track for FIA and FIM events.
Circuit President Steve Sexton said: "The Circuit of The Americas team is delighted to introduce yet another world-renowned racing series to our 2013 event calendar-one we know will be hugely popular with fans coming to experience MotoGP for the first time at our state-of-the-art sports and entertainment complex in Austin.
"MotoGP has a worldwide fan base with more than two million followers watching races in person each year. We're confident it will be a great addition to our programming and draw tens of thousands of people to Central Texas, creating yet another major event with significant economic impact for our region.
Thanks
"We want to extend our thanks to the Austin Sports Commission for its help in securing yet another first-class event for our city and for helping us become the first U.S. racing venue to host two world championship motorsport events."
Former world champion Nicky Hayden expressed his delight at having another opportunity to race in front of home fans.
"It's great for riders and fans to have another MotoGP event in the United States, and Circuit of The Americas will give us a chance to expose more of our homegrown fan base to MotoGP in an up-close-and-personal way," Hayden said.
"I love competing at new, fresh tracks and am really looking forward to racing at the Austin circuit."
Fellow American Ben Spies, who calls Longview, Texas, "home", is also excited about the 2013 schedule, adding: "Who wouldn't be excited to have a MotoGP race in their home state?
"I hope all of my CMRA, WERA and AMA racing friends and family storm the track. It will be so easy for me to cruise down to Circuit of The Americas from my house in Dallas."