Still hope for Sykes
British rider finds himself 26.5 points adrift of leaders Biaggi
Last Updated: 20/09/12 4:20pm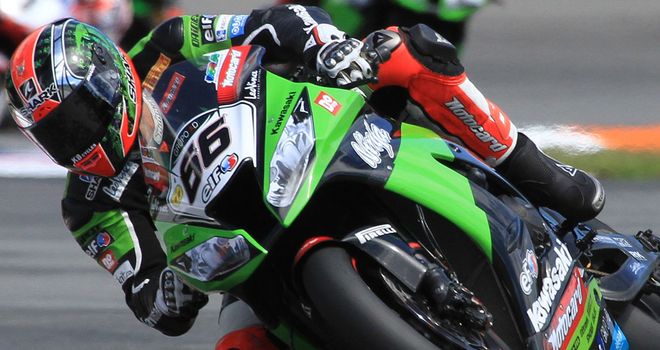 Tom Sykes: the British rider has been the surprise package of the 2012 season
Tom Sykes is not ready to give up on his bid to win the Superbike World Championship just yet ahead of the penultimate round in Portimao.
The Kawasaki rider has been the surprise package of the 2012 season, finding himself in third place in the overall standings behind only Aprilia's Max Biaggi and BMW's Marco Melandri.
The Brit sits 26.5 points adrift of Biaggi but with 100 points still up for grabs, he knows there is still plenty of life left yet in the title race.
Biaggi's race one win in Germany last time out moved the 2010 champion top of the pile, but both he and fell Italian Melandri struggled to stay on their bikes at the Nurburgring.
Extreme circuit
"I am confident in my own ability and both the team and Kawasaki have been fantastic."
Tom Sykes Quotes of the week
"The Portimao circuit is quite extreme, especially in the way it changes elevation so fast and so often, but I think that the way the Ninja ZX-10R is working we should be able to go to any circuit and do well," Sykes said.
"Right now, with two rounds to go, 90% of my thoughts are about taking it just one race at a time, and of course we will do what we have been doing all year when we get to Portugal.
"Obviously, 10 per cent of me is also thinking that we are in a good position in the table. If we play our cards right we can stay in the top three, and if we play our cards really well then we can win the championship.
"But in reality, come race weekend, we will go race-by-race and carry on as we have been doing. I think that we have proved to people that when the bike set-up is working we can be fast and we have the pace to run at the front consistently.
"I am confident in my own ability and both the team and Kawasaki have been fantastic. If we keep working on the set-up and get it to where it should be every time, then we all should be pretty happy."