Czech boost for Pedrosa
Brit Crutchlow claims the first podium finish of his MotoGP career
Last Updated: 26/08/12 3:08pm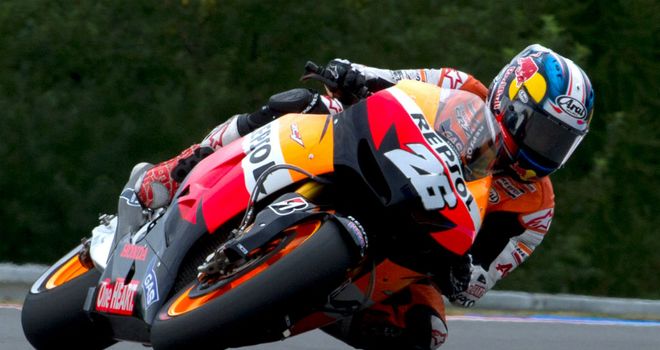 Dani Pedrosa: claimed his third win of the season to close the gap at the summit
Dani Pedrosa closed the gap on Jorge Lorenzo at the top of the MotoGP standings with victory in the Czech Republic.
The Spaniard managed to complete 22 laps of the Brno circuit in 42 minutes 51.570 seconds, meaning he is now just 13 points behind the current leader with six races to go in the season.
It was Pedrosa's third victory of the season, one that also offers a positive sign for his title hopes - the the winner at the venue for the past five years has then gone on to lift the overall trophy.
"It was a difficult last lap because I knew Jorge was very fast in the middle of the corner and I could hear the bike full on me," said the 26-year-old Pedrosa.
Lorenzo, who started the race on pole, had to settle for second place ahead of British rider Cal Crutchlow, who claimed the first podium finish of his MotoGP career.
Casey Stoner remains in third place overall despite failing to take part after travelling home to Australia for surgery on his fractured ankle.
The reigning champion is retiring at the end of the season and his replacement at the Repsol Honda team, Spanish youngster Marc Marquez, won the Moto2 race.