WWE Extreme Rules: Watch John Cena face Bray Wyatt in a steel cage and much more
Superstars to run wild in New Jersey, live on Sky Sports Box Office
Last Updated: 10/05/14 2:28pm
Extreme Rules is imminent which means carnage is on its way.
WrestleMania is known for its glitz and grandeur but the next big event on the WWE calendar is renowned for weaponry and bone-crunching action - and this year's showdown in New Jersey should be no different.
Hatred
A titanic tussle will take place between two of the most powerful factions in WWE as Evolution's Triple H, Batista and Randy Orton battle The Shield's Dean Ambrose, Seth Rollins and Roman Reigns.
CLICK HERE TO ORDER WWE EXTREME RULES
The Game, The Animal and The Viper have reunited for the first time in a almost a decade to try and negate The Hounds of Justice, who have shown a distinct hatred of authority in recent weeks.
WWE EXTREME RULES
Live on Sky Sports Box Office
1am, Sun, May 4 (Mon)
Will the veterans teach their younger adversaries a lesson, or will the black-clad renegades back up their win over Kane and the New Age Outlaws at WrestleMania with another notable scalp?
Kane responded to his Showcase of the Immortals loss - and Stephanie McMahon's subsequent criticism of him - by re-donning his mask and hitting WWE World Heavyweight Champion Daniel Bryan with a trio of Tombstone Piledrivers.
If The Big Red Monster repeats the dose at Extreme Rules, he could very well snare Bryan's garland, so will the submission specialist - who earned his belt at 'Mania by beating Batista and Orton - be able to tame his rival?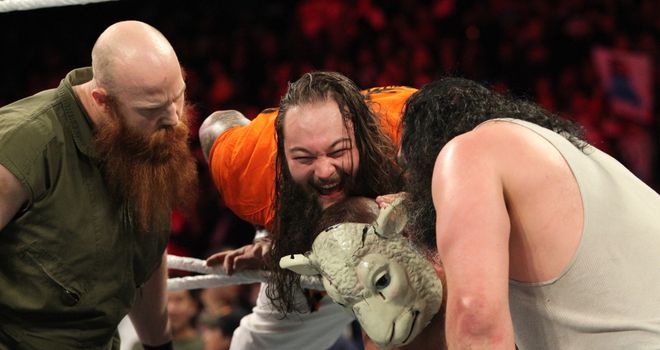 The Wyatt Family hover over a sheep-masked John Cena
Bray Wyatt and John Cena, meanwhile, will battle inside of a steel cage in The Garden State, a month after they went toe-to-toe at WrestleMania, with Cena pinning the Eater of Worlds to take his Show of Shows win-loss record to 8-3.
However, the Cenation Leader has readily admitted that Wyatt has got inside his head like no other Superstar and challenged the Man of 1,000 Truths to a clash within metal confines at Extreme Rules.
Will the 14-time world champion conquer Wyatt again when the fighters are surrounded by steel, or will the master of the Sister Abigail make good on his word and expose Cena's monstrous side?
Elsewhere, British star Paige will put her newly-acquired Divas Championship on the line against the powerful Tamina Snuka, while Big E will defend his belt against Bad News Barrett.
Plus, The Bulgarian Brute, Alexander Rusev will tackle R-Truth and Xavier Woods in a two-on-one handicap bout, while Cesaro, Jack Swagger and Rob Van Dam will lock horns in a Triple Threat Match.
Plenty more matches are set to be announced, so stay glued to skysports.com for details on those, and then watch WWE Extreme Rules, on Sky Sports Box Office.
Booking details
WWE Extreme Rules will be repeated on Sky Sports Box Office (channel 743) BUT NOT Sky Sports HD Box Office (channel 752) between 9am on Monday, May 5 and 9pm on Saturday, May 10.
Repeat showings will last for three hours, with final showing BEGINNING at 9pm on Saturday May 10.
The event is priced at £14.95 for UK customers, €21.95 for viewers in the Republic of Ireland.
You can order WWE Extreme Rules by pressing the Box Office button on your remote. Select 'sports & events' and follow the on-screen instructions.
Viewers can call 08442 410 888 to book WWE Extreme Rules. (There may be an additional charge for telephone bookings).
You can also book WWE Extreme Rules online by visiting this link: https://my.sky.com/orderboxoffice/
Cable customers should contact their local cable operator.